On the Olympics
22nd August 2008
Christ on a bike how I love the Olympics. Can there be anything more inspiring than watching supreme athletes from all five corners of the globe doing battle in a spirit of goodwill? Sean Connery weeps whilst watching great feats of athletic endeavour. I do the same. For three weeks it gives hope to mankind. Can you imagine a war breaking out during the games? (OK, there was Russia and Georgia…) If sport is indeed a 'glorious irrelevance' then there is nothing more glorious than this quad annual celebration of human endeavour.
Lazybones
I work from home. It has been suggested on occasion by those close to me that I don't, in fact, work from home. Because I don't work. That's what people think about people who work from home. I'm used to it by now. They're just jealous. Or confused. But they are forgiven. Because occasionally they are spot on. Take this week, for instance: I lay on the sofa, drank tea, read the newspaper, drank more tea and watched the Olympics. For three whole days. Shit the bed, working from home is the nuts.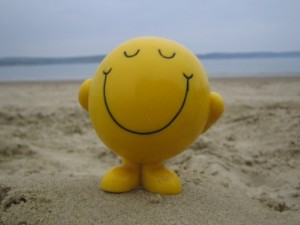 Below I am going to provide you with a list of ten things Olympic. Some are personal. Some are not. Some are related to Beijing 2008. Some are not. Some ladies are lesbians. Some are not.
1. 1984
My first memories of the Olympics date back to LA games of 1984, when I was 11. For much of this three week span I was on holiday with my parents in the picturesque Cornish village of Mousehole. My dad and I would get up in early hours, switch on the three-bar fire, and watch the likes of Carl Lewis, Daley Thompson and Ed Moses on our tiny TV. "Dad, why isn't Allan Wells better than the others?" I would ask, following this up with, "He won in 1980, you know?" "That's because there was an American boycott that year." "Is that anything to do with Geoffrey Boycott?" "No. Look, Fatima Whitbread just winked at us." These are treasured memories of my late father.
(Also, as a sprinter myself with a half-decent pedigree, I was like a pig in shoes. I was the second fastest in the year behind Phillip Cuffy, who was European Champion for his age group, or something ridiculously good. Simon Fletcher may question my 'second fastest' claim but he also knows that in a moment of weakness twenty years later he admitted that I beat him by a nose when the two of us ran against each other in the summer of 1984).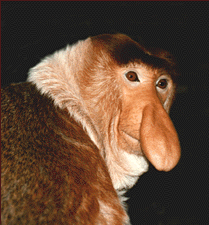 2. Missing Usain Bolt
Last weekend in Stockholm I attended the wedding of a former work colleague. This was a wonderful opportunity to toast the bride, have fun and catch up with some old friends. My former boss 'Dirty' Harry was there, as was Sue Schmoo, 'Terra' and her tough guy husband SOD. We all had an absolutely fantastic time (which in part explains my three days on the sofa). Yet I would possibly have given the whole thing up to watch the build-up, race and post-race analysis of the 100m.
On the Saturday afternoon we were treated to a boat trip around the city. I nipped downstairs to the bar with Tara to replenish our empty glasses. "Jesus Christ, did you see that, Saul?" said a man who went by the name of 'The Noise'. "Usain Bolt has just smashed the world record and he jogged half of it!" There before me was a group of men staring at a massive TV showing what looked like Usain Bolt doing a lap of honour. I'd missed the final by about 30 seconds. I had no idea there was a telly on board. I was crestfallen. "Don't worry," said Tara kindly, though entirely missing the point, "I'm sure they'll show a replay later…" I am – and remain – absolutely gutted. That's my favourite ten seconds every four years, apart from when I get lucky. Which brings me onto…
3. Bob Beamon's Virginity
When I was twelve I was given a book entitled 'The Book of the Olympics' by the unlikely named David Wallechinsky ("co-author of The People's Almanac and The Book of Lists"). I know all this because I just removed it from my bookshelf. Inside there's the odd fact you might know and plenty you wouldn't concerning the history of the games, including all the results since 1896. The book also contains the 100% fascinating tidbit that the night before his gravity-defying leap of 8.90m in Mexico City in 1968, Bob Beamon lost his virginity. "Wow," my younger self thought. "I wonder if that gives you an extra spring in your step." And also, "Blimey. He's a grown man, but also a virgin. So if I'm still a virgin when I'm grown up, at least I'll be in good company." I just googled Mr B. He was born in 1946, making him 22 when he did those two things (had a jump, did a jump). What a hero. Did you know he never jumped more than 8.22m after that?
https://youtube.com/watch?v=FIgk75Jn9ZQ
4. Mike Powell vs. Carl Lewis
1991. Just wanted to mention it. Wow on toast. Lewis 8.91m, Powell 8.95m. Combined, that's about one mile. I know it was the World Championships and not the Olympics but still. As for Powell, talk about 'leggy'.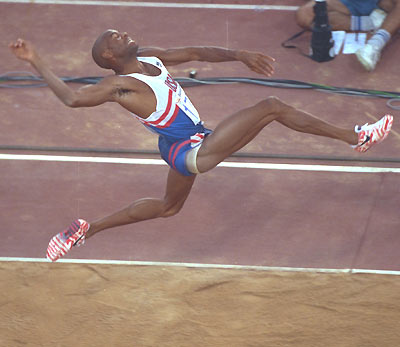 5. Catching Usain Bolt
Even in my headiest days at St George's school, Harpenden, I don't think I could have caught Usain Bolt. This is a man, afterall, who ran 20.5 for the 200m when he was 15. He ran 19.9 when he was 17. It took Michael Johnson until he was 20 to dip under 20 seconds. No, when I say 'catching Usain Bolt', I meant on the telly.
The pain I felt over missing the 100m – enhanced by my former sprinting credentials – would, I surmised, only begin to be assuaged by not missing the 200m. It's a shame though: the 200 is exactly twice as long as the 100, yet I love it half as much. Still, I wasn't going to let this one slip between my digits. Triple-checking the timings, I unplugged my landline, switched my mobile to silent, barricaded myself into the flat and settled onto the sofa. I wasn't disappointed. Well, I was a bit: I thought he'd go under 19 seconds…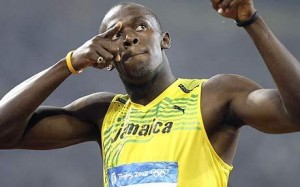 Prediction. This is a man who I believe can go as fast as 9.45 seconds for the 100m and 18.85 for the 200m. Of course as Michael Johnson points out, it's not easy to break a world record and despite the apparent ease with which Bolt achieved his double, I don't deny this. But I think he can do it. And here's why:
a) his age (22, very young – athletes, particularly sprinters, don't reach their peak until 27/28)
b) the way he started the 100m (badly)
c) the way he finished the 100m (early)
d) the fact that he ran the 200m into a headwind
e) the fact that during the 200m he was straining with every sinew to break the world record. Had he relaxed he would have run faster.
f) the fact that the 200m was at the end of a tiring week, with little chance to do any endurance training for the longer race.
All I'm saying is keep an eye on him at international meets in Zurich and the like. You heard it first here. Of course I could always enter my blog at a later date and amend it. But I won't because I'm not a drugs cheat, unlike
6. Christine Ohuruogu
OK, she may not be a drugs cheat – but I reckon there's an 80% chance she is. She missed three drugs tests. Those in the know say that if you are taking banned substances you should miss two tests, then attend the third. If you knew that if you missed three out of three appointments you'd lose your job, don't you think you'd make a point of attending at least one? This means she's either a drug user (boo!) or a complete and utter idiot (doh!). I felt uneasy trying to celebrate her victory in the 400m.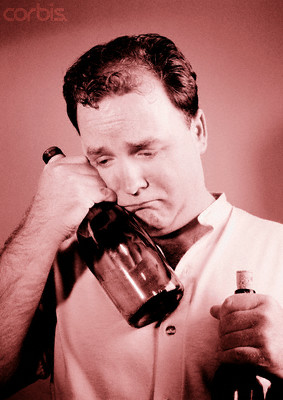 7. Dropping the Baton
Both the Americans and the Britons dropped the baton in the mens 4x100m relay qualifiers, as did the American women. It reminded me of the Hertfordshire District Sports of 1982. Duncan Price ran a decent second leg but slipped at the end and lay there on the grass crying, his arm outstretched, baton in hand. Having already set off, I had to run back towards the flailing lad, rip the baton from his clenched fist and peg the third leg. Matt Reynolds ran a blistering final leg and we came…third. Not bad. Duncan Price's house later burned down. He went through the mill did Dunc.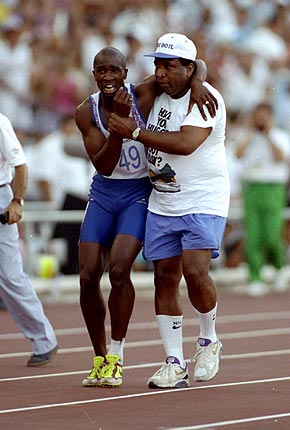 8. Other Sports
Sorry, but I really couldn't give a hoot about cycling, swimming, judo and yngling or ngurgle or whatever it's called. Track and field, man, that's where it's at. Which is why it's such a shame that the Americans have had such a relatively poor Olympics to date. T&F is not big news in the US so they need as much help as they can get. Dropping the baton in the 4x100m didn't help. The world of track and field needs a thriving US and A, just as cricket benefits from a blossoming West Indian team (which ain't happening).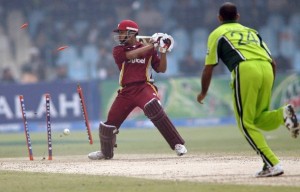 9. Calvin Smith
I can still remember the elegant American sprinter Calvin Smith being interviewed early in the 1988 Olympics – the year that Ben Johnson (not the poet) shocked the world with his astonishing dash – and stating casually that, "there's a lot unknown…". Johnson was of course found guilty of taking stanozol and stripped of his medal, Carl Lewis was bumped up to gold, Linford Christie to silver and Smith to bronze. It was later revealed that Lewis had failed three drugs tests during the US Olympic trials for a banned stimulant but escaped censure. Christie was later banned for steroid use. As Smith remarked some years later, "I should have won gold." Even Dennis Mitchell, fourth, was banned latterly for steroid use.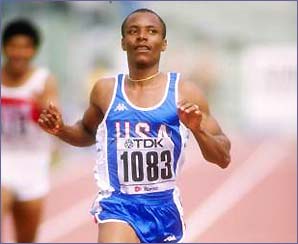 10. Zola Budd
Poor little thing. Tripping up Mary Decker-Slaney-Decker-Mary like that. Then I saw her in Simmons the Bakers on Station Road in Harpenden the following summer. Was she wearing any shoes? That's a secret that we will share to the grave.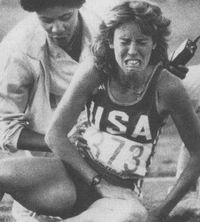 F*ck the bed, once I started this I couldn't stop. There's loads more I'd love to discuss but unless I'm going to write a book or lose readers I think it's time to call it a day. Hope you enjoyed. Please post your Olympic thoughts/memories/opinions below. Just remember, winning is everything….and the impossible just takes that little bit longer. Bo Selecta.
(whilst doing a final edit on this, I've missed the mens 4x100m. A world record for Jamaica. I am skill)