On holiday
13th October 2009
Shalom and welcome to my latest blog. It's called 'On holiday'. That's because I've just been on one (a holiday). It was nice, I had a cold, then it was nice again. Plus I did something really naughty. But you'll have to read on for that.

First of all let's get things straight: this wasn't a foreign holiday. It was in Norfolk. Secondly there are three phases to said holiday: a weekend with old friends, a few days on my own where I intended to overhaul this website but got struck down by a very vicious and virulent virus, and the final phase – the arrival of m'lady friend for a few days. This was the occasion for naughtiness.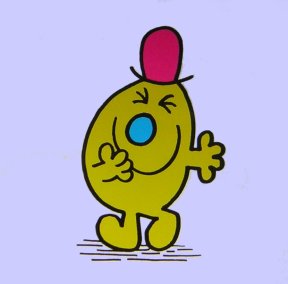 A week last Friday my old friend Matt and me drove to the north Norfolk coast. Matt has been big in Japan for the last 12 years (for a while very literally, though he has since slimmed down) and was over to begin a law conversion course. We met our friend Tim for lunch at the White Horse in Brancaster. We've all known each other since we attended Roundwood JMI, Harpenden, aged four. Tim and Matt were high-flyers at junior school. I wasn't. I had to go and see the headmaster because my writing used to slide off the page.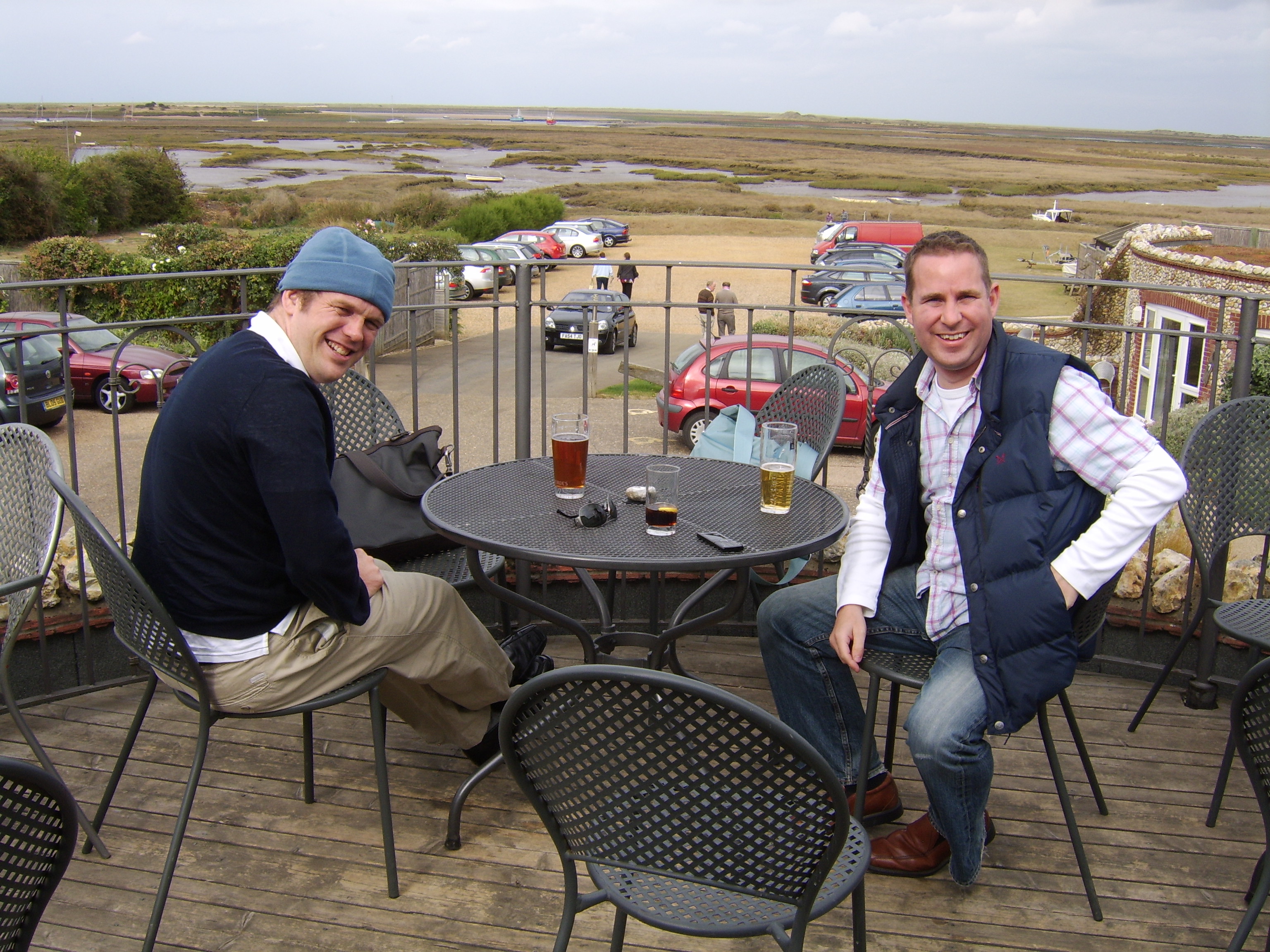 Matt and Tim – the old high-flying team – drinking to forget
That afternoon we pitched and putted for money (I won – who's the high-flyer now?), ate chips and fish in Hunstanton and waited for the others to arrive, which they did: Tim's twin Emma, her husband Chris, their kids Lucy and Thomas, and Dave. We'd all been to school together, save for the kids who weren't even born then gawd bless 'em.
We were staying at Tim and Emma's parents' house in Docking. I shared a room with Matt. Famed for my snoring, Matt slept most of the night in the hallway.
Next day we cycled, played rounders on the beach, visited a pub in Burnham Market ("Chelsea-by-the-Sea") which is populated by media types – we saw Lee from The Office, he touched my finger by accident – and exceptionally posh West London girls who make you feel slightly nauseous yet horny at the same time.
That night I made a chilli (no one died), we played cards (no one died), I go my guitar out (no one died) and we all went to bed. On account of my snoring I took the double room and Dave shared with Matt. Dave snored and Matt spent most of the night in the hallway.
Next day, Sunday, I drove to Hunstanton, where I'd be spending the next week. My aunt and uncle recently bought a bungalow there (I know many people take a second home on the north Norfolk coast and it is ruining life in the villages but I would like to point out their strong links to the area as well as the fact that Hunstanton has always been a tourist town unlike the others which used to be working villages but now resemble ghost towns for much of the year). I then rejoined the others, postmeridian, for Chelsea-Liverpool on the telly, we asked a reluctant Scouser to take this photo…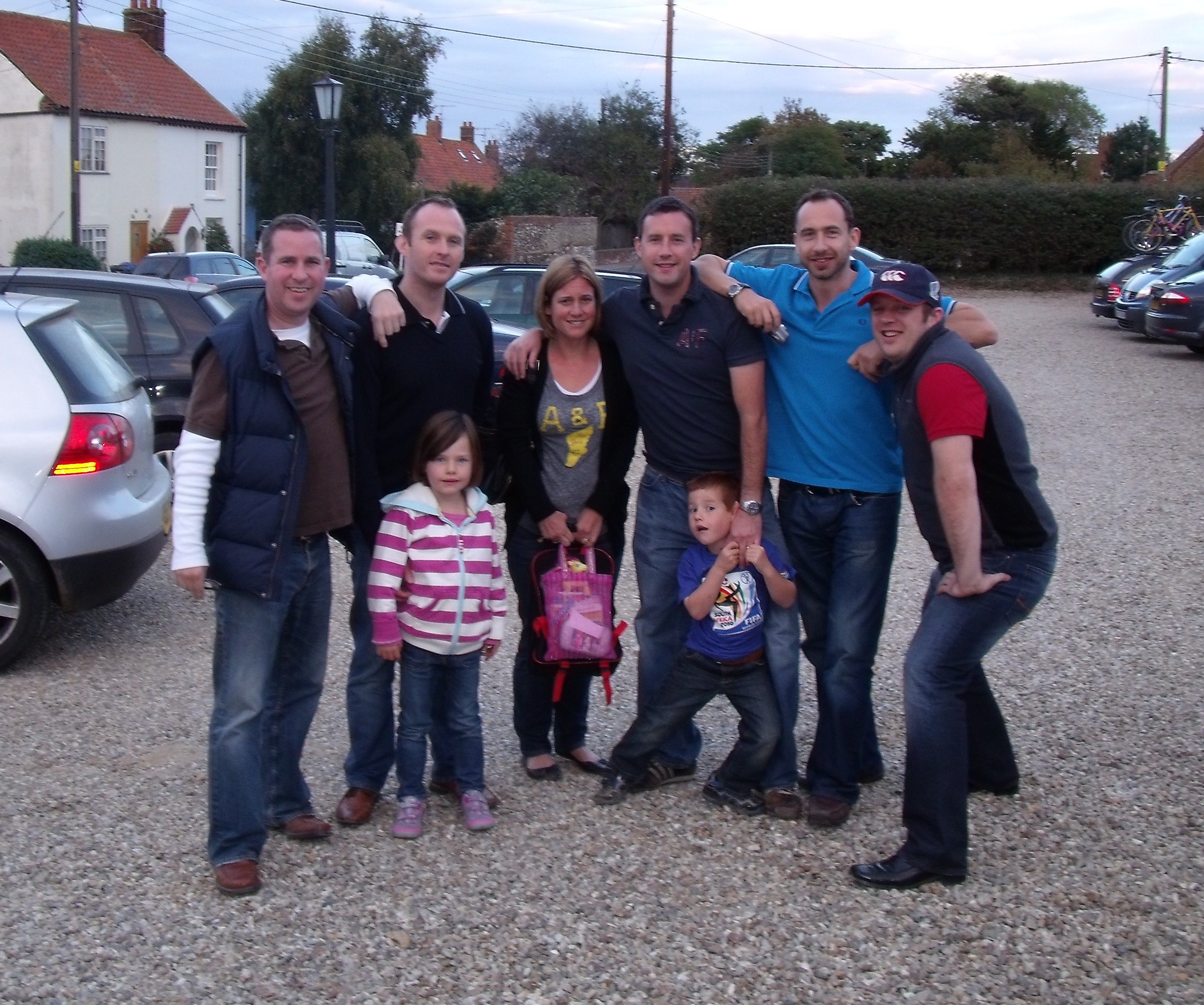 …we said our goodbyes, and I returned to Hunstanton to begin my holiday in earnest.
Only almost immediately I was full of cold. This is boring but here are the symptoms: my nose was running like a tap, and dripping everywhere. Yet because my head was already thicker than normal (and remember, I'm no high-flyer), it didn't occur to me I was coming down with anything. That became apparent the next day. Which was a blow as I had to spend all of Monday and some of Tuesday finishing a couple of work assignments. Finally, by Tuesday lunchtime I was done and could allow myself to relax into my cold in the way perhaps only a man can: trackie bottoms and knee deep in tissues, I lay sideways on the miniature sofa, cranked up the heating, supped lemsip and watched Seinfeld on DVD. I did this until Thursday, whence I was rescued from my torpor by m'lady friend, Joan. This is Joan.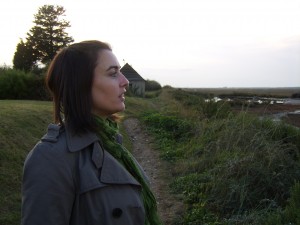 This was all rather galling as one of my prime motivations for taking this time was to work on a handful of creative projects. A few weeks ago I met another old school friend, the talented though awkwardly-shouldered Fraser (see Frase, I DO mentioned you in my blogs). Frase told me straight: "Saul," he said. "Yer website's shite. It never changes. Plus there are too many tabs, some of which, frankly, are a tease. It's top heavy, overloaded. Get it sorted, mate. Mine's a Kronenbourg." And he was right, in a way. Less is more. Some stuff needs putting into draws, others bulking up. I was planning on doing a new podcast, recording a few pieces of music for the 'Music' tab, writing a new blog and generally rejigging the mutha. But I got ill. So very ill.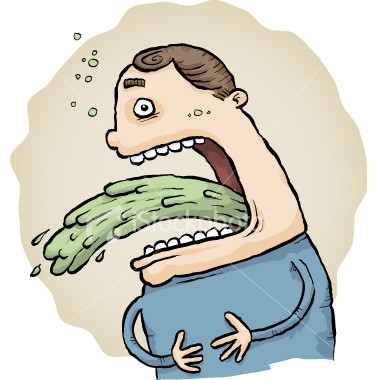 My only human contact during this time was with Mr Mann, local workman and nephew of his namesake, Mr Mann, who used to maintain the windmill outlined in an earlier blog. No doubt thinking me the laziest man in England – a title bestowed upon John Lennon in 1967 during a now-infamous interview with Maureen Cleave in the London Evening Standard – for three days I brought Mr Mann his black tea two sugars in precisely the same clothes whilst he undertook outdoor chores and regaled me with stories of how Stephen Fry got caught in bed with the landlord of The Hoste in Burnham Market.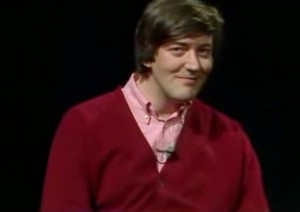 So Joan arrived and we walked along the promenade, looked at dogs (one of our favourite pass times), ate doughnuts and generally enjoyed the heavy melancholy of an out-of-season, tier-two English seaside resort. One of the first things Joan did was try to foist upon me a tenner that she claimed her mum had given me to spend on our hols. Only it was blank on one side. Joan thought this was quite simply the funniest thing she had ever seen in her entire life (I keep telling her she needs to get out more). It seemed that her friend ****** owed her some cash and photocopied a tenner many times over as a joke. Apparently this is against the law, and apparently many photocopiers won't allow it. It seemed that the one ****** used did. So we had four photocopied tenners.
The question was: what to do with them?
It was then we thought: wouldn't it be fun if we visited the self-styled "Largest Joke Shop in the World" that happened to be in Hunstanton, buy two fake dog turds, drive to Burnham Market, lay a fake tenner on the floor, place a plastic turd on top, find a vantage point then observe people's reactions.
So that's what we did.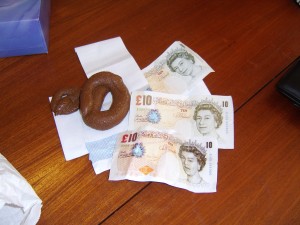 It was a bit naughty, but let me lay out our thinking: tempting poor people with false money is wrong. Tempting revoltingly rich weekenders who rarely look down at the floor in the first place is borderline acceptable. This was a very important social experiment to record people's responses when presented with the conundrum of a tenner with a shit on top.
Here's the joke shop by the way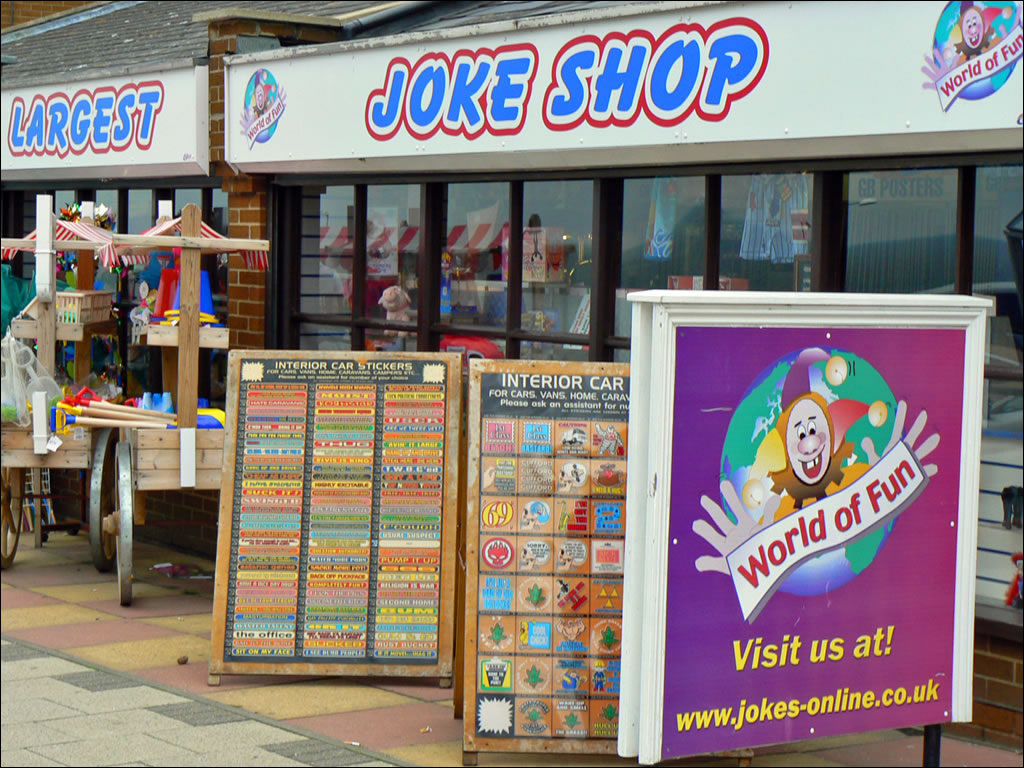 We needed a disguise so we bought coffees and a newspaper. Next we positioned ourselves on a bench on a green near a bus stop. The problem was there was an old man who was watching us like a rapist and every time we got up to place the turded tenners, one each, we'd bottle it, especially as the town was overflowing with people. In the end we both got them down, then sat back to observe. The man continued to give us funny looks, then disappeared into the pharmacy. We genuinely thought he'd gone to call the police. In 80s parlance, we were bricking it. Clearly neither of us was cut out for a life of crime (except for Joan of course).

Here's Joan going about her business pretending she's not paranoid.
We hastily convened a crisis meeting and decided to rethink our strategy. Crossing the road we placed an Aryton avec merde directly outside a shop – on the pavement but close enough to a post that it wouldn't get kicked along the street – then beat a hasty retreat to our vantage point some thirty yards away. Here's a photo of the view we had: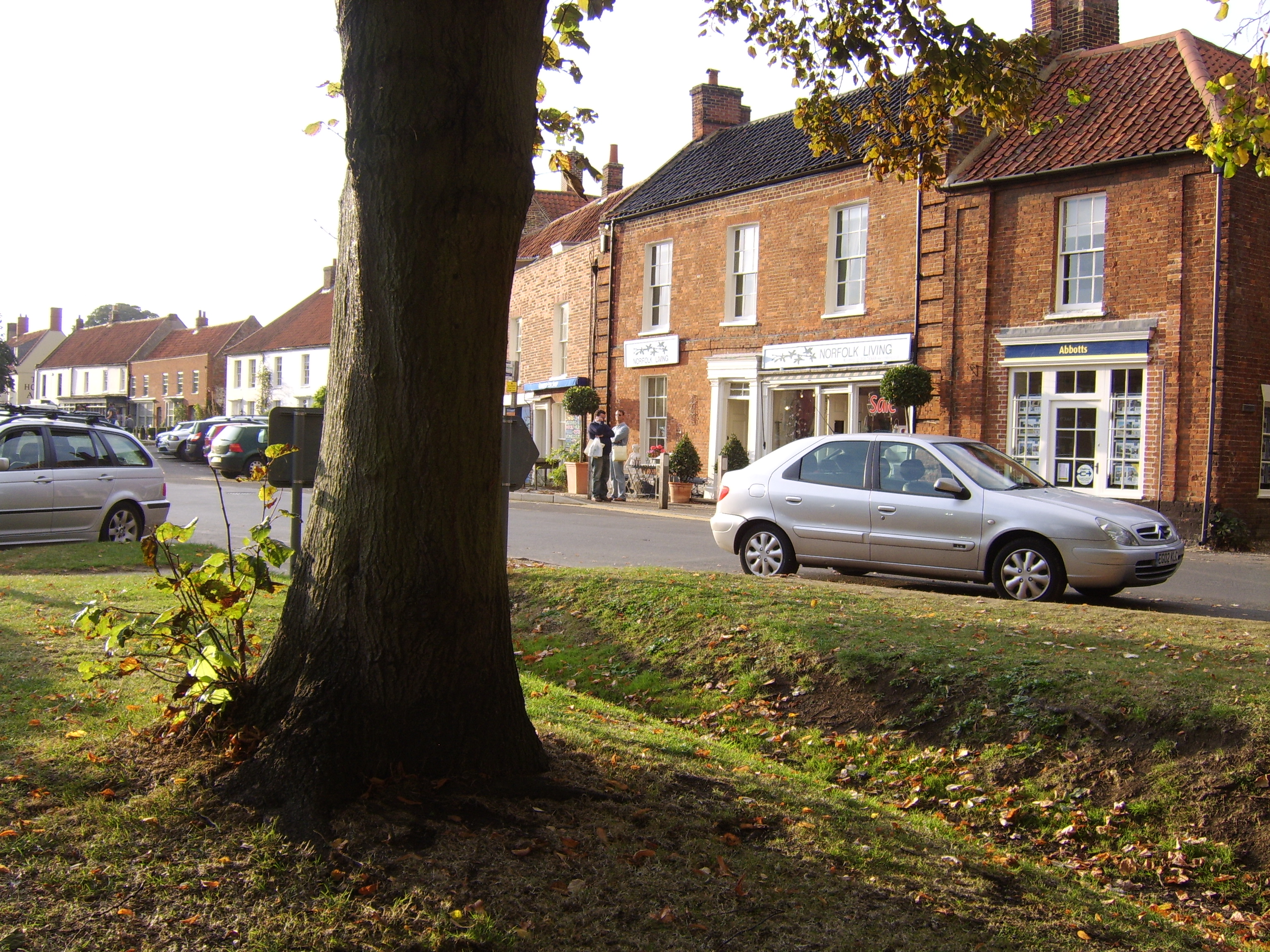 So we watched and waited, short of breath with mirth and excitement. Here's what we learnt:
1 – people in Burnham Market hardly ever look down at the ground
2 – most of those that do seem entirely nonplussed by the sight of a tenner with a turd on it
3 – many didn't even break stride or change expression at the sight of this peculiar juxtaposition
4 – some people were interested, however. They would be striding along, only to stop, circle the offending melange, smile, then walk away, often peering back for a final glimpse
5 – some people laughed out loud
6 – one child studied it for a minute, then caught up her parents, declaring "it's not a real poo!"
After half an hour of unquantifiable immaturity on our part, we picked it up – and moved it to directly outside The Hoste, the one Stephen Fry likes. Here we learnt a few more things:
7 – we should be ashamed of ourselves
8 – especially at our age
Finally a lady came along and kicked the cack. It skated across the tarmac and came to rest in the middle of the road. By this point we were staking out in the car, so we drove off, almost stopping to pick up the offending article, but ultimately bottling it as it would have meant an admission of guilt in front of the Pimm's drinking punters seated outside.
Anything after that was going to be an anti-climax, though I do recommend The Lifeboat in Holme-next-the-Sea. I do not, however, recommended the M11 on a Sunday evening.
Oh, and we went for a pleasant walk to Ringstead on the Sunday. Here's some trees from the walk.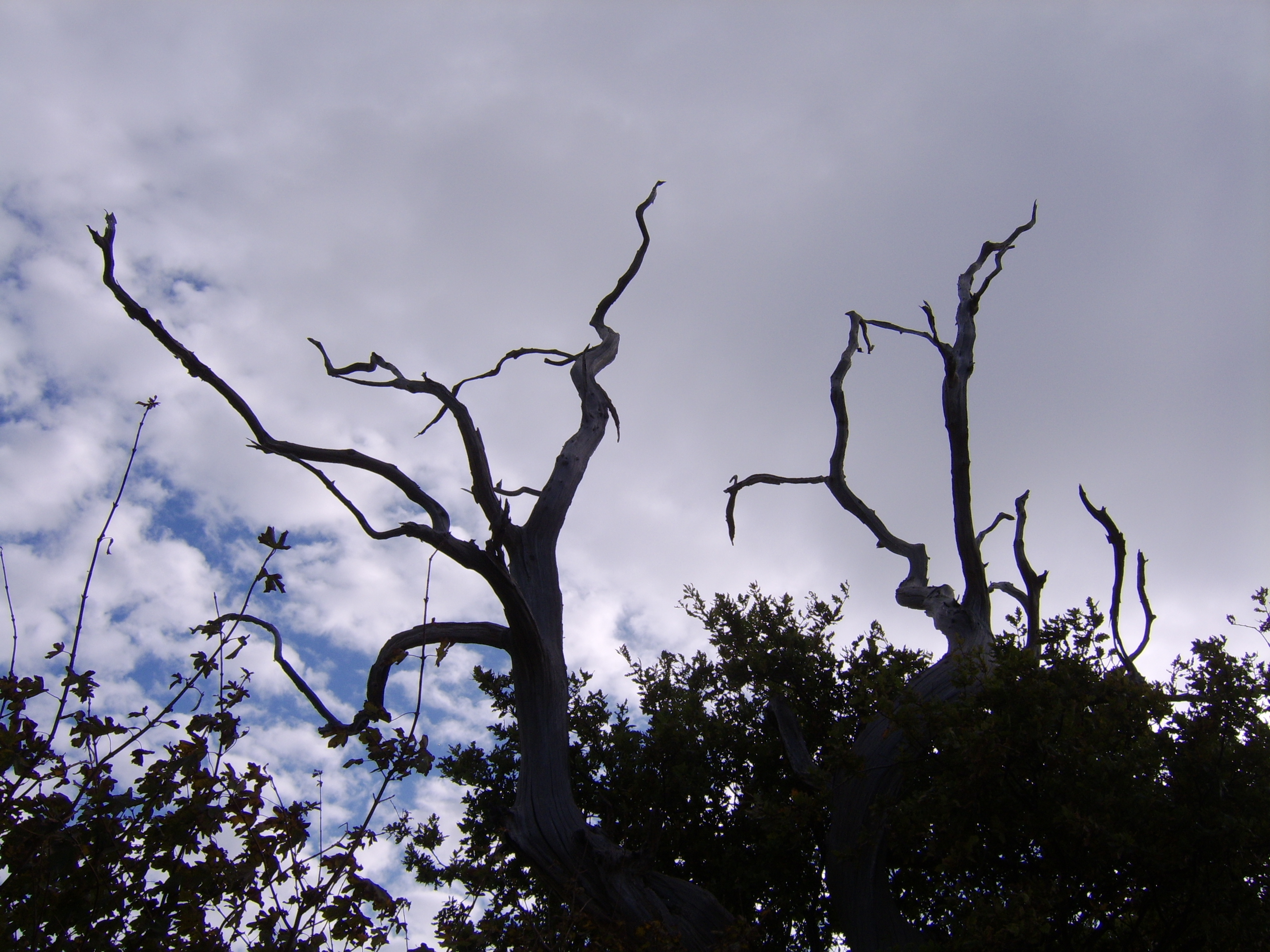 So that's it. I intend to update the website very soon – with a little help from my techfriend, Rob. Meantime, if you want to catch me, please visit the website for the Sitcom Trials, where my script has been shortlisted and will be performed next Monday at the Leicester Square Theatre.
I thank you.
Saul