On Alan Watkins
11th May 2010
A year ago an old friend of my father's emailed me. "There's someone you must meet," he said. "His name is Alan Watkins and he's one of your dad's former Fleet Street cronies."
He continued: "I'll arrange for us to have an old fashioned Fleet Street lunch. The three of us can meet at El Vino's and have a sandwich and a couple of bottles of Champagne."
"Sounds great, Peter," I replied.
Time passed and we exchanged a couple more emails. I was very keen to meet Alan Watkins. Aside from being one of the top political columnists of the past fifty years, he is also a surviving member of the Fourth Estate's drinking epoch, a time when journalists would decamp to the pub – often El Vino's – and remain there all afternoon, waxing lyrical, boozing heroically and writing copy. Alan Watkins' book, 'A Short Walk Down Fleet Street', captures the whiff of gin and cigarettes, and features a roll-call of legendary creatures who shaped the conversation of two generations before the arrival of technology dispersed newspapers to distant places, rendering Fleet Street a totem. My dad was one amongst this band.
*
Peter's wife had to have an operation on her foot over Christmas. "I have to look after Zoe," he said. "We'll meet Alan when she's recovered." Soon after that he sent out an email with a date for his book launch, which is taking place today. I was very much looking forward to meeting Alan Watkins, who I assumed would be there.
So I was very sad and disappointed when I opened yesterday's Guardian to discover that he had died.
It seems that everyone from Gordon Brown and David Cameron to Robert Harris and Gareth Edwards has paid him a glowing tribute.
It's a shame we never did get to share that bottle of Champagne (or "a little of the sparkling wine of north-east France, if I may," as he put it).
Below is an obituary of the man as it appeared in The Guardian, by Michael White.
**********
ALAN WATKINS 1933-2010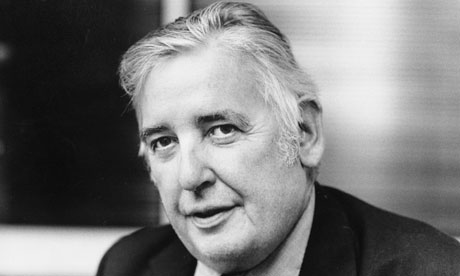 Alan Watkins, who has died aged 77, was a political columnist on newspapers and magazines around old Fleet Street for more than 50 years. He was distinguished as an erudite pundit, a writer of stylish prose and a lively phrasemaker. "Young fogey", "chattering classes" and the Tory "men in suits" were all attributed to him. These qualities, combined with a bloody-minded streak of independence, ensured a professional longevity rare in his ephemeral trade, especially among those who drank seriously. Watkins did.
He wrote his last column, on the party leaders' first television debate, on 18 April. It opened in characteristic fashion: "From the acres of opinion on display on Friday, I seem to find myself in a minority of one …" Looking back on this stamina in old age gave him great satisfaction. "There's only Keith Waterhouse, William Rees-Mogg, Philip French and me left now," Watkins would say when another rival gave up a column or died, as Waterhouse did last September. "Of course, only Philip has a proper job," he would add, on the grounds that French always had to venture out and see several new films before writing his weekly article.
Watkins's technique was very different. In his youth he might lunch a politician, a Harold Wilson, a Tony Crosland (CAR Crosland in Watkins-speak) or Denis Healey. As likely, he would delve into the background of his week's chosen topic, often consulting dusty memoirs in libraries, his own long memory or a half-forgotten white paper. The result was sharp and witty insights into controversies of the day that readers of the Sunday Express (1959-64), Spectator (1964-67), New Statesman (1967-76), Observer (1976-93), and latterly the Independent on Sunday, expected from him. He would also review books and write columns on other enthusiasms.
For his main column, Watkins would visit the House of Commons, but spend as much time in its bars as in the press gallery. He kept up, but did so via Hansard, or from the sofa at home once the parliamentary TV channel opened: "Our man in Islington with a large drink and a colour television," as he put it. Cable TV was a rare concession to newfangled technologies, one that helped him to spot winners well into old age. By such means did he conclude, against most predictions, during the Labour deputy leadership contest of 2007, that Harriet Harman would beat Alan Johnson. Cameron will be PM, he said before his death.
"You've never been a proper journalist," the Guardian's Ian Aitken would teasingly remind his friend, by which he meant that Watkins never trundled on the hamster wheel of daily deadlines. Watkins seemed genuinely respectful to those who did, but what he did – year in, year out – was at least as demanding. Occasionally it would deliver a real scoop; thus a telegram craftily dispatched to Michael Foot confirmed Watkins's hunch that Foot would run for the newly vacant Labour leadership. The columnist had calculated that "the old bibliophile" (Watkins's description) would be too polite not to answer. His hunch led the paper.
Even in 1980, a telegram was becoming archaic. But Watkins was a man of settled habits who spent most of his working life (apart from a short stint in New York in 1961) in the triangle between Islington, Westminster and Fleet Street. A young journalist once seeking to impress her visiting parents took advantage of the fact. "Do you see that man in the creased blue suit emerging from the Daily Express building? He will cross Fleet Street at that crossing, turn right and go into the wine bar on the left," she predicted.
Watkins duly obliged en route to El Vino's, a haunt he discovered in 1959. Along with the Garrick Club, also within the Watkins triangle, he remained loyal to El Vino's for the rest of his life (not least to cash his cheques, for he mistrusted cash machines), long after it ceased to be packed with the famous journalists of the period, among them Henry Fairlie, George Gale, Paul Johnson, Peregrine Worsthorne, Anthony Howard, the Guardian's Philip Hope-Wallace and Peter Jenkins. In what Watkins called "the silver age of Fleet Street" – before the 80s diaspora – there was a great deal of boozing and fighting. For such a respectable family newspaper, Watkins noted with amusement, the Telegraph's staff was then particularly notorious, its pub, the King and Keys, in frequent uproar.
His settled character and views became part of his performance, outdated phrases deliberately deployed in his articles and conversation. Modelling his column stylistically on PG Wodehouse, he deployed anachronisms for comic effect. For many years his New Year political review was penned like an 18th-century letter as "Master Alan Watkins' Almanack". Watkins's photograph was adorned with a wig for the occasion.
As for means of 20th-century communication, his daughter, Jane, made one last attempt to introduce him to the convenience of a laptop and the joys of the internet in his mid-70s. But he made little or no attempt to use either, being unconvinced that he was missing much. Nor did Watkins have a mobile phone.
Instead he continued to write his columns, usually between 1,100 and 1,300 words, in small, neat handwriting, using a proper pen with black ink on lined foolscap paper. He would then dictate his week's contribution to someone at his current publication (Watkins was a committed freelance) before taking a taxi to the office to check the proofs. By the time old Fleet Street died of strikes and new technology in the 1980s, few got away with such behaviour.
Watkins was born in the Carmarthenshire village of Tycroes, north of Swansea, the adored only child of teachers, themselves clever offspring of mining families. His mother, Violet, spoke no Welsh, but his father, David John (DJ) Watkins, did not read English until he was 12 and was not always easily understood when visiting London. But he was highly erudite, largely self-taught and sceptical of worldly pretence.
As such he would warn his son against Keynes ("living beyond your means, any damn fool in the pub can tell you that. [Alfred] Marshall was a sounder economist"). Watkins Sr had worked as a mines labourer before qualifying to teach, and suffered a professional calamity when he lost his headship for some unspecified offence. It embittered him. But young Alan grew up in a bookish household, Carlyle and Macaulay on the shelves, the News Chronicle and Observer through the letterbox, encouraged to talk public affairs as well as watch rugby with his father. On matters of grammar and taste, though, he deferred to his mother. After she died at 92, he felt ashamed that he had not rescued her from an old people's home.
Apart from books (he wrote eight), drink and rugby were lifelong enthusiasms. Champagne ("a little of the sparkling wine of north-east France, if I may" he would say at the bar), claret and armagnac were his staple tipples. He disapproved of New World wines ("you can't drink them every day"). He came to see rugby in terms of its modern game as dominated by players who were much heavier, but also stupider, than they were in his youth. He may well have felt the same way about politics in the age of Blair and Brown. He respected politics more than he did most politicians.
After Amman Valley grammar school, Watkins read law at Queens' College, Cambridge (1951-55), to which he would have been awarded an exhibition, had he needed one. But he had already obtained a county scholarship. Active in both Labour and Cambridge Union politics, Watkins was married young ("I was virtually a child bridegroom") to Ruth Howard, sister of his future colleague, Anthony Howard. They lived in a converted stable in the garden of the eminent philosopher GE Moore OM. Watkins later included a portrait of Moore in his collection of contemporary Brief Lives (1982), along with other famous men he had known, including Lord Beaverbrook, Anthony Powell, Kingsley Amis, Malcolm Muggeridge and many politicians.
Inevitably, he did his national service in the education corps, conveniently stationed at RAF Duxford, a 12-mile scooter ride from home – which allowed him to avoid many of the "ridiculous dinners" which aspiring barristers were expected to eat at Lincoln's Inn before being called to the bar. Though Watkins later worked as a research assistant to Professor William Robson at the London School of Economics, he had decided by this time that neither the law, nor academic life, was his vocation.
In his anecdote-rich memoir, A Short Walk Down Fleet St ("the finest account of journalism I have ever read," declared Brian Walden), Watkins recalls contemplating two admired careers, glamorous Mr Justice Lawton, then a rising legal star, and louche Henry Fairlie, brilliant columnar meteor. Which would he rather be? Fairlie, he decided.
Watkins's luck was in. Though he had written little undergraduate journalism, an article for Socialist Commentary had praised John Junor, editor of the Sunday Express, who had got in trouble with MPs for suggesting that they got special petrol rations during the Suez crisis. Watkins would not have chosen the Sunday Express, but his stint writing the then influential Crossbencher column proved to be a passport to the higher reaches of columnar journalism which he sought.
Despite having been briefly a Labour councillor in Fulham (1959-62), Watkins was recruited by the Spectator shortly after the Tories lost office in 1964 and the cerebral Iain Macleod moved from the cabinet to become editor. Macleod would rarely interfere ("Must you say that about Ted [Heath]? … Well, if you must, I suppose you must").
When Nigel Lawson, another future Tory chancellor, took over, nor did he. This mattered to Watkins, who resisted editorial interference by owners ("I do not favour sucking up to proprietors") or by editors such as Dick Crossman at the New Statesman or John Cole ("like many dissenters he did not tolerate dissent") at the Observer. "My principal object was, as it remains, to have control of my copy," he explained.
When Crossman tried to dictate topic or content he resigned, though later patched things up. At the Observer he argued often with Cole, who was then deputy editor and who held more respectful views of leading politicians. At the Independent on Sunday, his final berth, Watkins left Peter Wilby in a frequent state of "disgruntlement and disillusionment". He once resisted the editor's protest that "dusky despot" was no longer an acceptable way to describe an African dictator. For Watkins, as for Wodehouse, it was merely a joke. He got the phrase into the paper under Wilby's successor, Rosie Boycott.
During Lawson's editorship, Watkins had his first serious brush with authority when, in 1967, he published two D (for defence) Notices in his column – hitherto secret documents warning newspapers what they could (not) print on security grounds. There was a row and an inquiry under Lord Radcliffe.
The Spectator was condemned, but Watkins was unrepentant. Among later controversies, his most alarming was the costly three-week high court libel action brought against Watkins and the Observer in 1988 by the Labour MP Michael Meacher, whom the columnist had accused of embellishing his working-class credentials. Meacher lost and Watkins, who had spent three days in the witness box, wrote a book: A Slight Case of Libel (1990).
In 1967 he moved to the New Statesman, then edited by Paul Johnson, where he remained until 1976, first under the editorship of Crossman, another ex-cabinet grandee, later that of Watkins's brother-in-law, Howard, whom the journalists' chapel chose to succeed him. It was a pioneering idea, later adopted by the Guardian.
In each job he kept his own counsel. By 1969 he reached the conclusion that the Wilson/Castle trade union reforms, In Place of Strife, would neither work nor be accepted by Labour MPs. He was right. In 1975 he argued the case, less successfully, for a No vote in the European referendum. In the 90s he urged the renationalisation of water.
Such views were hard to pigeonhole. As a teenager watching wartime newsreels at the Palace cinema, Ammanford, Watkins had joined in boos for Churchill – no hero in south Wales – and cheers for Stalin's Soviet generals. Watkins became, and remained, a Bevanite on foreign policy, opposed to Nato and the cold war (for which he blamed Bevan's near namesake, Ernie Bevin), suspicious of the US and war in general.
"I'm just against activists, I'm an old-fashioned Whig," Barbara Castle's Diaries quote him as complaining over lunch. This outlook would be reflected in his disdain for the Iraq invasion of 2003 – and most wars in between. Unlike many friends he did not regard Europe as an article of political faith either. As a Welshman, he favoured small nations.
On domestic politics he took his cue from Crosland's Labour 60s revisionism, though he retained his father's suspicion of do-gooder, busybody politicians of all stripes – and their motives. Margaret Thatcher could be treated as a figure of fun, but as Watkins got older Blair – "the young warmonger," he would call him – was more often a source of irritation. Last Monday he cast a postal vote for the Lib Dems. Insofar as Watkins had heroes in politics, Crosland was probably number one, though his column's tone was usually that of amused detachment, punctuated with bursts of understated outrage.
When he finally arrived at the Observer in 1976 it was the fulfilment of his youthful ambition: the Observer's Hugh Massingham (1905-71) had been an early hero; Watkins was never drawn to the Guardian, whose takeover of the Observer in 1993 led to a row over pay and his departure. He had fought the New Statesman board's decision to sell the valuable freehold of its HQ at Great Turnstile and would later oppose Rupert Murdoch's takeover offer for the Observer. Watkins did not seek trouble, but nor did he walk away from it.
Watkins's private life was marred by misfortune. Before he and Ruth separated in 1974, she had attempted to kill herself. In 1982, she succeeded and the following year their daughter Rachel, who had found her mother, did the same. As in much else, Watkins remained adamantly libertarian on the individual's right to commit suicide. By this stage he was living with his son, David, in Islington, his flat in the same house as those of the Times/Telegraph columnist Frank Johnson, a close friend, and fellow sports writer, Matthew Engel, now of the FT. Also important in his later life were the art curator Fanny Butlin and her husband, Martin, the former keeper of the British collection at the Tate.
Increasingly oppressed by failing kidneys, he struggled unsuccessfully with dialysis and took to his bed last month. On Saturday David was about to read him Simon Hoggart's election sketch when he noticed his father had slipped away.
He is survived by Jane, David and his two grandchildren, Roy and Harry.
• Alan Rhun Watkins, journalist, born 3 April 1933; died 8 May 2010