On missing the trip of a lifetime
7th August 2012
Last month Bradley Wiggins became the first Briton to win the coveted 'maillot jaune' (yellow jersey) in the 'Tour de France' (the Tour of France). I was supposed to be there but through a combination of my own stupidity and impenetrable bureaucracy I was cruelly denied the opportunity.
This is my story.
A few months ago my old pal Tim dangled my way the opportunity to attend the Tour de France courtesy of two of his friends, one of whom had access to a chateau close to Carcassonne. Being a recent cycling convert I said 'oui' and noted the dates in my battered 1996 faux-leather filofax.
As the day grew closer we ruminated on how 'Wiggo' was progressing, the fact the Froome looked the stronger rider and the immense pleasure our VIP tickets for stage 15 would no doubt bring.
"Je suis excited," I declared to Tim.
We were to fly out on the Saturday. On the Thursday flight-booker Richard requested our passport details so he could check us in online. I replied that evening.
"Here is my passport number," I wrote to Richard. "Here is my D.O.B." And finally, "My passport expires on the following date…"
Oh shit.
Oh fucking shit.
"Holy crap my passport has expired," I wrote. "I'm not joking. In May. Balls. Have so much work to do but will try and fix tomorrow. Will keep you posted."
I lay in bed, comforted by a sympathetic Joan. I had a deadline to meet before I departed. But now I was presented with a day of craziness in an effort to land a new passport.
How could I have let this happen? The May 2012 cut-off had existed in my subconscious but it had somehow been pushed out of my brain, perhaps by a massive burp. I hadn't used my passport since October. I'd last taken it with me on a flight to the Isles of Scilly in April but wasn't required to present it on account of not having one of those faces.
The Day of Reckoning
I rose early on the Friday and headed to Victoria, the historic home of passport-in-a-day-please operations. I felt strangely optimistic as I approached the blurry lady behind the smeary glass.
"We have no appointments today," she said. "Your best bet is to go to the phones and see if customer service can find you a cancellation." She pointed towards three phones.
I walked over and lifted one.
"Your best bet for a cancellation is to speak to the passport office in person."
I went back to reception.
"Sorry, but your best bet is to go to the phones and see if customer service can find you a cancellation."
etc.
Until two years ago the passport office offered a one-day service, enabling those who had foolishly let their passports expire to turn the situation round in one day. Whilst the so-called 'one day service' still remains, it is dependent on securing an 'appointment'. The next 'appointment' was in 10 days time.
"So what happens if people cancel their appointments on the day?" I asked.
"Oh, we don't bother to fill those," came the answer.
I was being bounced back and forth like a rubber ball without a passport. The level of misinformation was breathtaking. After expressing my frustration I headed him and hit the phone.
The Phone Hits Back
The only way I would be able to make my trip-of-a-lifetime to the Tour was to secure a cancellation, ideally on the Saturday. The Friday was no longer an option.
I called the helpline.
Repeatedly.
Each time I did I asked the same questions:
1 – "Off the record, what would you do in this situation?"
2 – "Is it true that if you turn up at Peterborough they'll be sympathetic to your cause?"
3 – "You sound sexy – what are you doing later?"
After a couple of hours that rendered me borderline delirious I got lucky. A student, who didn't care if he got bollocked, said he'd stay on the phone for as long as it took to secure a cancellation. He even let me visit the bathroom and make myself a cup of tea while he hung on at the other end (note: these were separate trips).
"There used to be loads more civil servants who processed applications," he said. "Now they just fill call centres with people like me whose job it is to firefight the thousands of people who are ringing in competing desperately for a tiny number of cancellations."
These mythical cancellations would appear on the system, only to disappear seconds later.
Progress
After thirty minutes I struck relative gold – an appointment on the Saturday.
Great!
Yes!
Huzzah!
The only problem it was at 9am.
In Newport.
That's in Wales.
I stayed on the line for a further 20 minutes but nothing else came up so I thanked the student-man and hung up, hallucinating.
A 9am appointment was too early for the train. Newport is 143 miles away. I would have to pack, leave at 6am, collect my passport by 1pm (assuming my application was accepted), book another flight, drive straight to Stansted or Gatwick, leave my car there until Thursday…
I could feel the opportunity slipping through my handlebar-toughened fingers. Exhausted from the constant calling I opened a bottle of wine and poured a glass. It tasted really very nice and rather moreish. I had another. Mmm, delicious.
Wines
As the wine took hold I dispensed with my plan of turning up at Stansted and smiling my way through customs, praying they wouldn't look too closely. If I'd made it that far – and there was some anecdotal evidence online that this still happened very occasionally – then I'd probably still be in a cell in France today.
I was exhausted. I'd tried everything and everyone, from Joan's sister in passport control, to tweeting in the guise of my vaguely popular alter ego. Nothing worked. Having hurtled shoulder-first into the system and made some progress the system had ultimately beat me.
I wondered how they would respond if David Beckham presented himself. Surely they would bend it for Beckham. The truth, of course, is that people like Beckham have people whose sole job it is to ensure their master's passport doesn't go out of date. Mine had. I'd never even played for Manchester United. I was fucked.
*
I received updates from the South of France, some more welcome than others. The weekend was fine – I watched the Tour and hurtled round Richmond Park on my bike. But come the week I made heavy weather of my deadlines and felt quite depressed, especially as Joan herself had now gone away.
All's Well…
Since then however I've been lucky enough to attend the men's Olympic road race …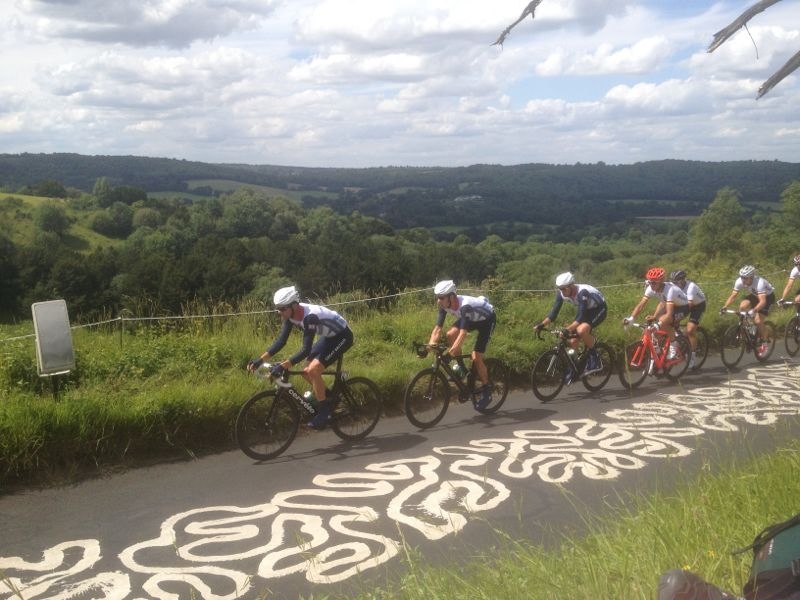 … the men's Olympic time trial …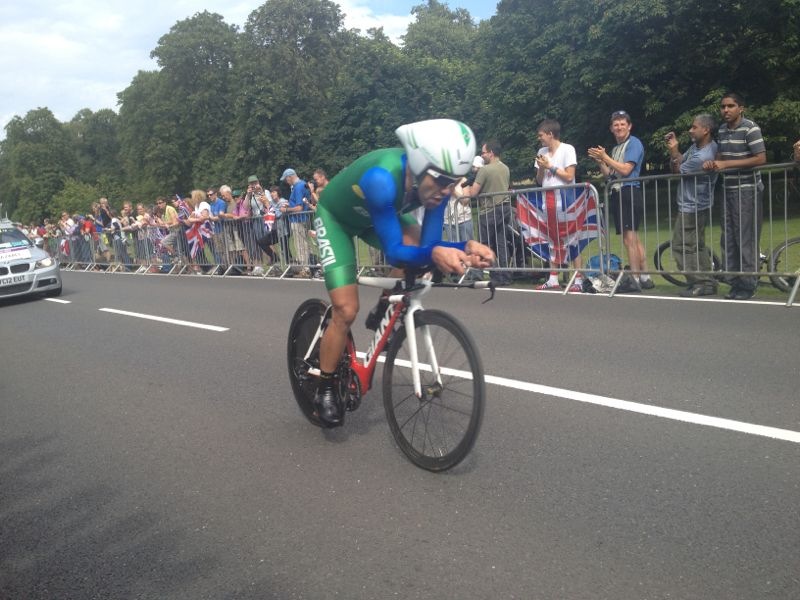 … and spend half a day at the Olympic stadium …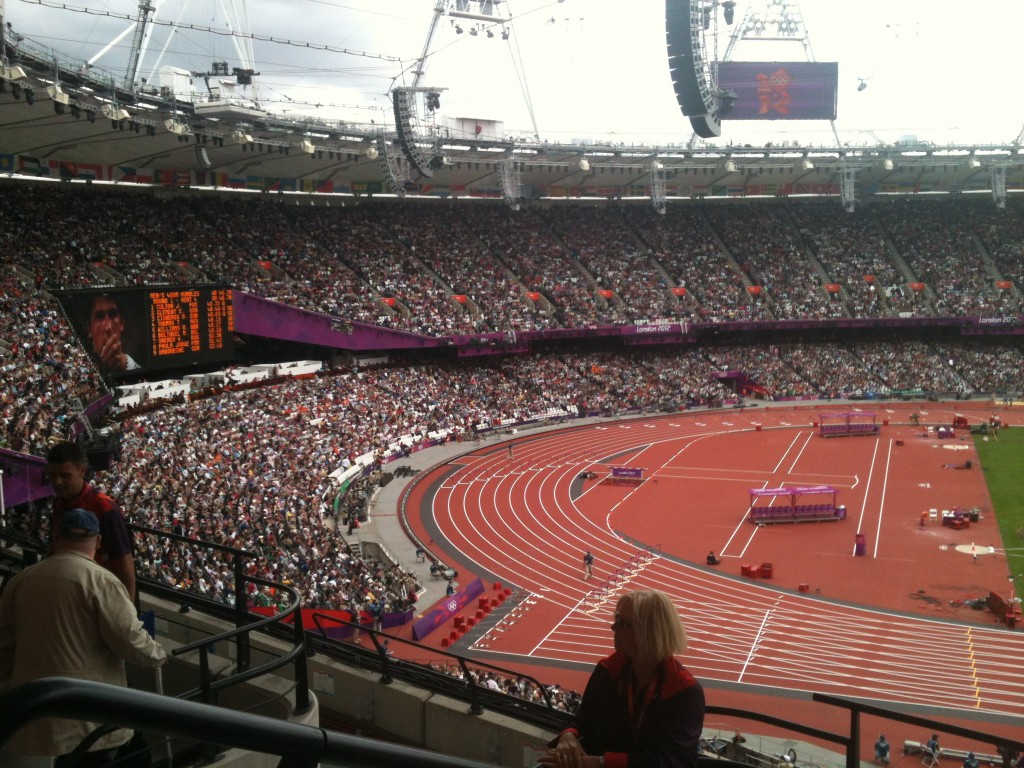 Tim brought me back my own Tour de France yellow t-shirt.
What more could I ask for?
So there you go.
It wasn't so bad after all.
There's always next year.
They're still cunts* at the passport office though.
*
*
*
*
*
*
*
*sorry for swears