On Llanrhaeadr
25th August 2010
I am silly. A very silly boy. I've waited far too long to write up my recent trip to Llanrhaeadr-ym-Mochnant (trans: village of the pigs over the bridge near the river in the valley or some such). Oh well. Any lapses in memory I will endeavour to plug with colourless fabricated anecdotes.
I sometimes wonder whether I'm too hung up on the past. My blogs are laden with references to my late parents, I've written an article in the Guardian about my dad, another about my grandmother (pending with the ed) and campaigned to keep my grandfather's tool collection alive. Hell, I've even waxed nostalgic on the pleasures of childhood Panini stickering.
So what?
Should I try to look forward more than I look back? Mmm, I think not. Not here, anyway. This space is an opportunity to linger, even revel, in bygone days gone bye-bye, to search for meaning and capture tropes and tales that might otherwise be lost and forgotten. I am blessed with a heritage rich enough to fill volumes of biography and it's well worth revisiting from time to time.
Most of the work I do looks forward – articles and columns and sketches and body art using eels – and has nothing to do with yesteryear. It's nice to dip my toes in from time to time but ultimate I think I learn from the past not live in it.
Justification over. My conscience is clear. Thank you for indulging me. I love you all (mostly).
So…I recently visited Powys, mid-Wales, and the small village of Llanrhaeadr. This is Llanrhaeadr.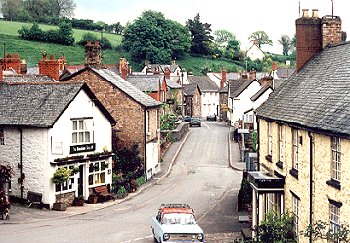 I was accompanied on this trip down memory lane by my faithful assistant Joan. This is Joan.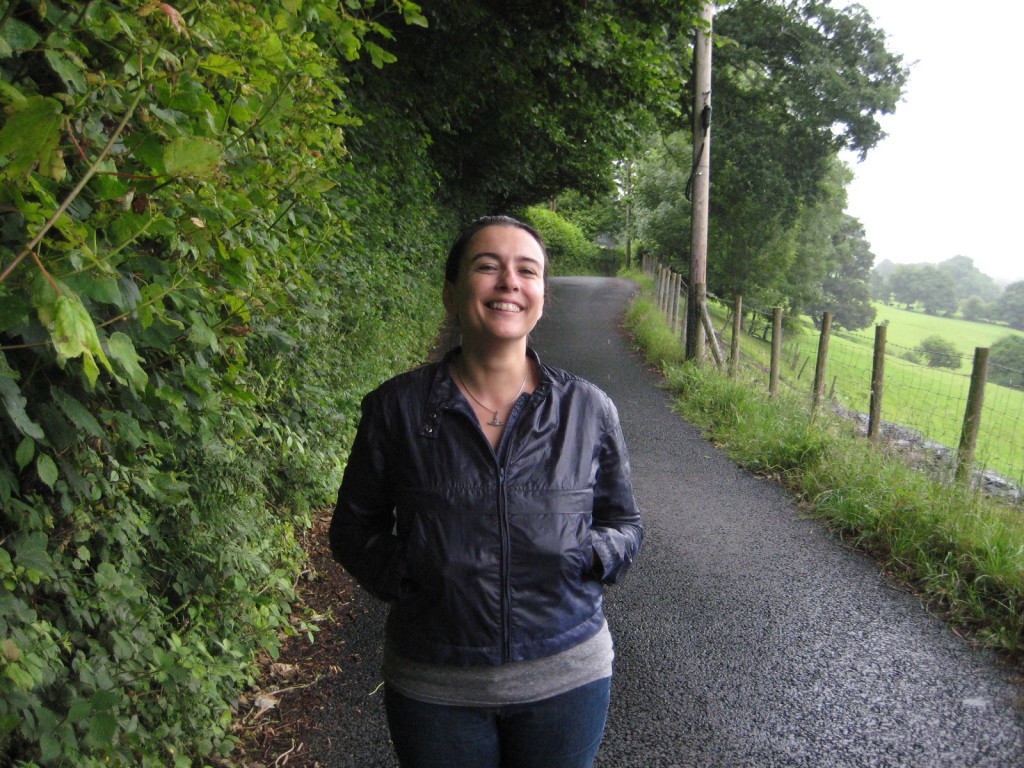 Llanrhaeadr is where I holidayed as a child. Not once in a while, however. I mean Every Single Holiday. Without Fail. Dad loved to fish the River Tanat (my middle name) and would decamp to Llan for six weeks during the summer. Mum and I would join him for three. Not to mention Easter. And half-terms. Most of my childhood memories involve Llan.
Oh look here's me as a baby chilling with my dead homies in the graveyard….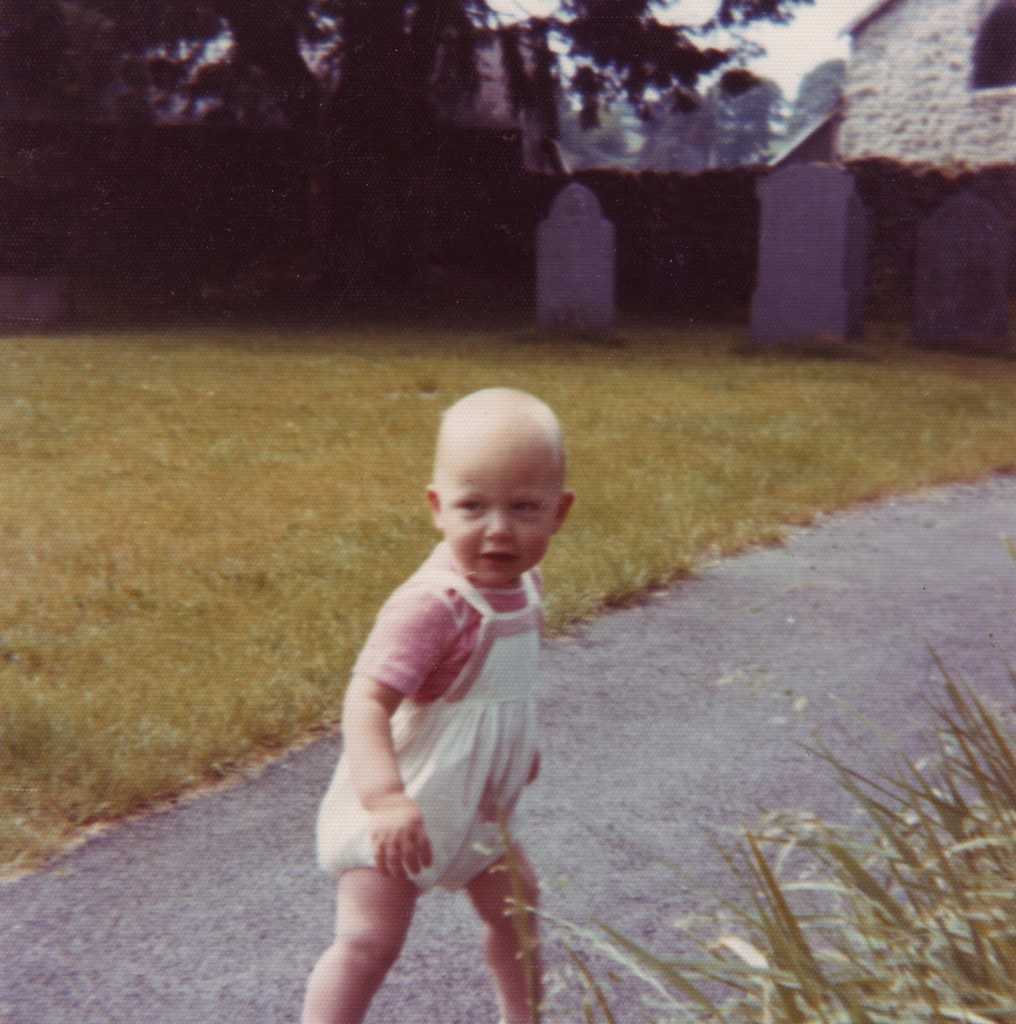 …and this is me (left) with the son of a local farmer. He was a gifted child. You wouldn't necessarily know it from this.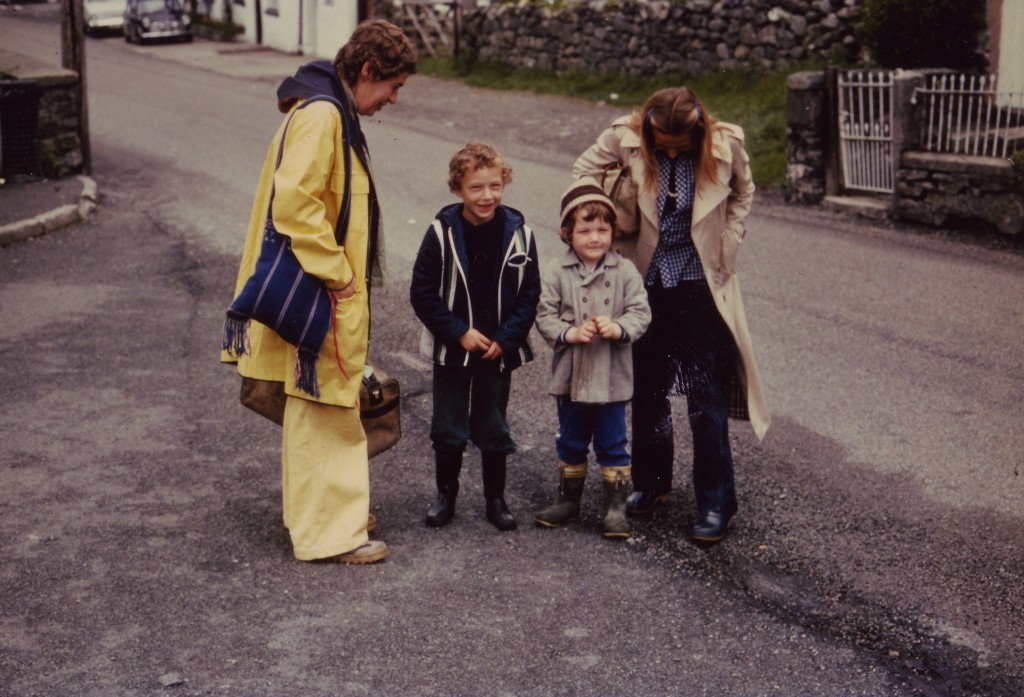 (pls forgive the familyalbumesque quality to this blog, I got scanning one afternoon and couldn't stop)
These were heady days: boozy dinner parties, stolen kisses, illicit affairs, cars stuck in rivers, incidents, accidents, even heart attacks – and that was just the kids. The evenings were populated by alcoholics, writers, ex-prostitutes, homosexuals, the famed and the fallen. Not that my parents were any of these things but dad in particular had amassed quite a collection of underdog and overdog during his misspent middle years.
As for me, there were plenty of kids in the village to play with, in particular Mungo and Hania whose mother, Jean, was friendly with my parents. Jean was a feisty bohemian redheaded who had moved from London to Llan in the mid 70s.
But more about Jean later.
My folks moved there in 1996. It was a short stay. Dad died in '98 and mum moved to London. But it was great while it lasted. There was still time to ferry a carload of friends up one weekend and take in the delights of football with the locals, disconcertingly vigorous walks, and a trip to Oswestry's finest nightclub, BONKERS.
If I recall Matt got lucky with a local lass, though of course it depends on your definition of the word "lucky".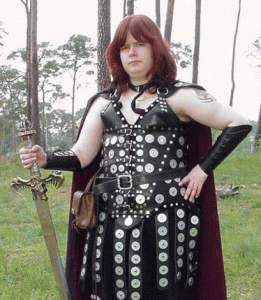 I hadn't visited Llanrhaeadr in three years, and Joan has never been. I like to keep my hand in there because a) I love it and b) without putting to fine a point on it my parents are buried there. A month ago we made the journey up, a journey I could do with my eyes closed (and once did).
I fear this is going to be a long one. Go and get yourself a cup of tea.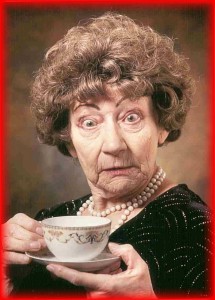 Are you back?
OK, let's continue.
Joan and I stayed in the most delightful B&B a couple of miles outside the village. Here we were treated like kings (me) and queens (Joan). Plus there were dogs. Here come the dogs!
This is Sandra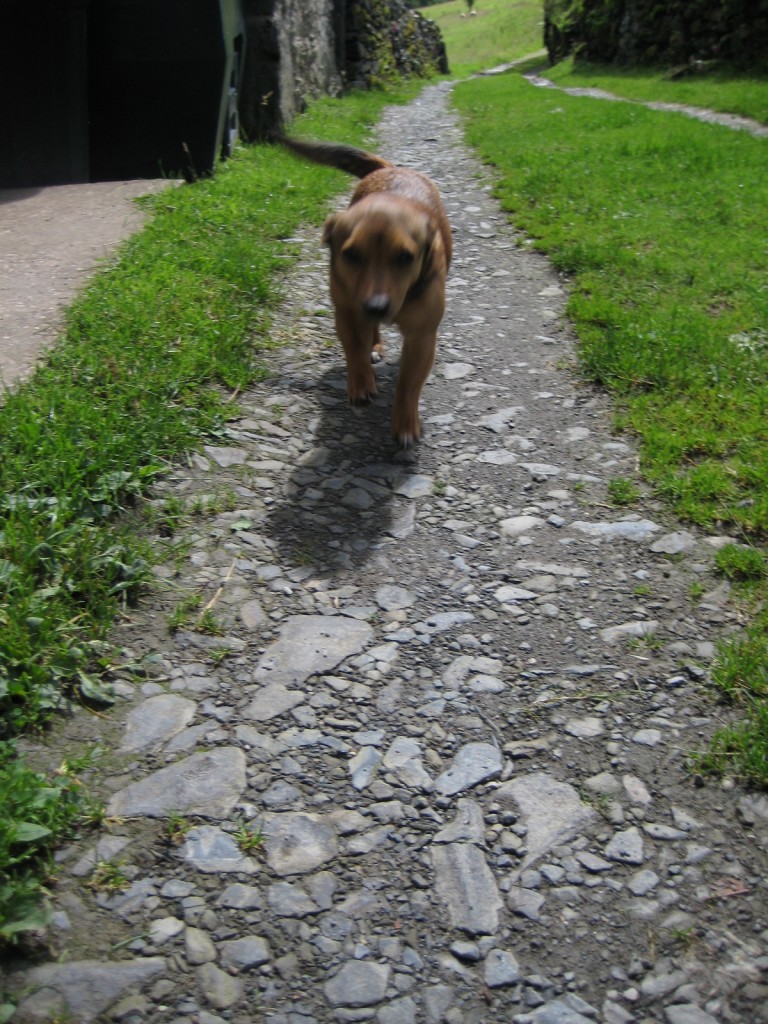 …and here's Tony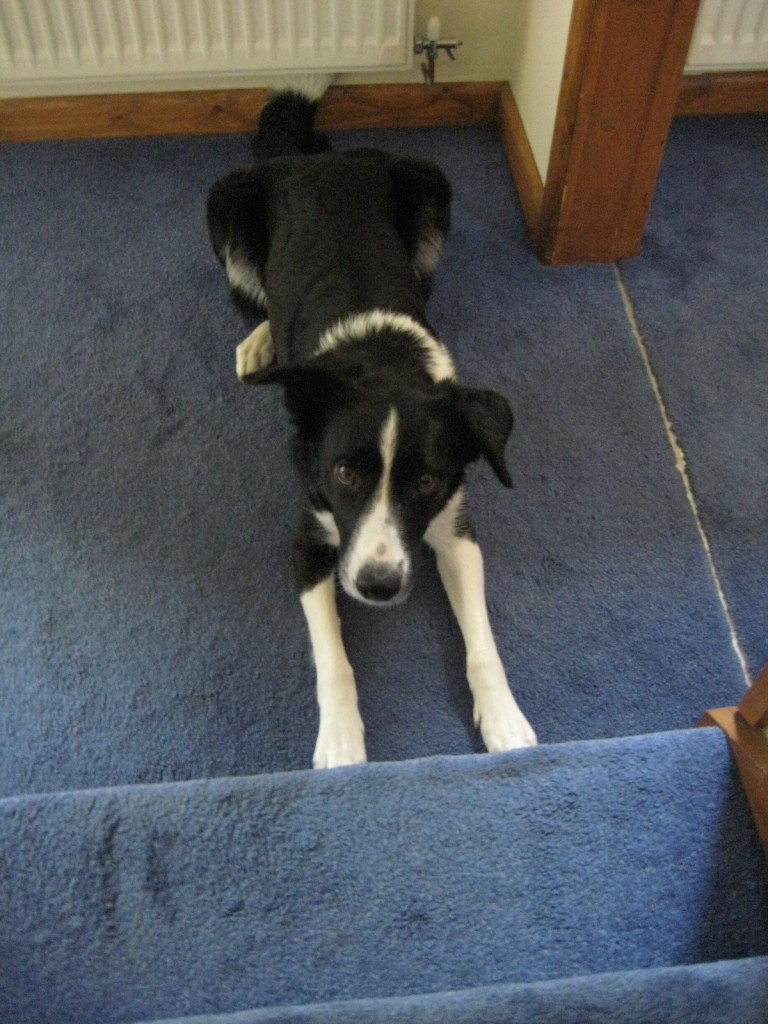 (yes I've forgotten their names)
The B&B was on the way to Pistyll Rhyaeadr waterfall, one of the Seven Wonders of Wales.
(the others being Terry Griffiths, Jonathan Davies, Barry John, Dame Bertie Bassett, Martin Amis, The Stereophonics, Dylan Thomas, Ryan Giggs, Richard Burton, Victor Spinetti, Kevin the Gerbil, The Alarm, Katherine Jenkins, Cerys Matthews and Snowdon).
It was set a mile back from the main drag down an unmade road. Anyone who knows me knows my car has seen better days, months, years, even decades. Miraculously it survived multiple journeys up and down this rugged half-path. The constant crashing and wallop fixed my central locking.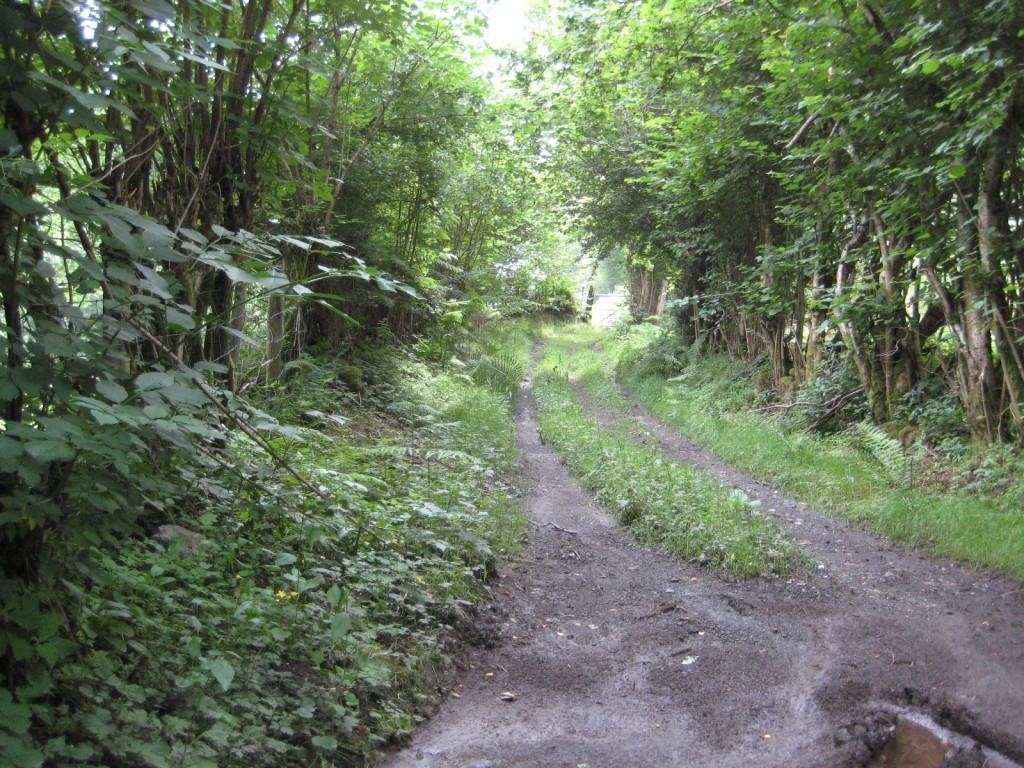 Day one we took a stroll up to the waterfall. Joan and I got rained on during our walk. Served us right. Fancy coming to Wales without a brolly. That's like visiting an art gallery without eyes.
You may recall Pistyll Rhaeadr from such adverts as Timotei (2:39 in – just say if I'm going into too much detail).
https://youtube.com/watch?v=uL0Dlj6FNRc
Apparently someone once killed themselves by jumping from the top. I wish I'd been there to witness it. Here's Joan looking windswept and moistened by spray.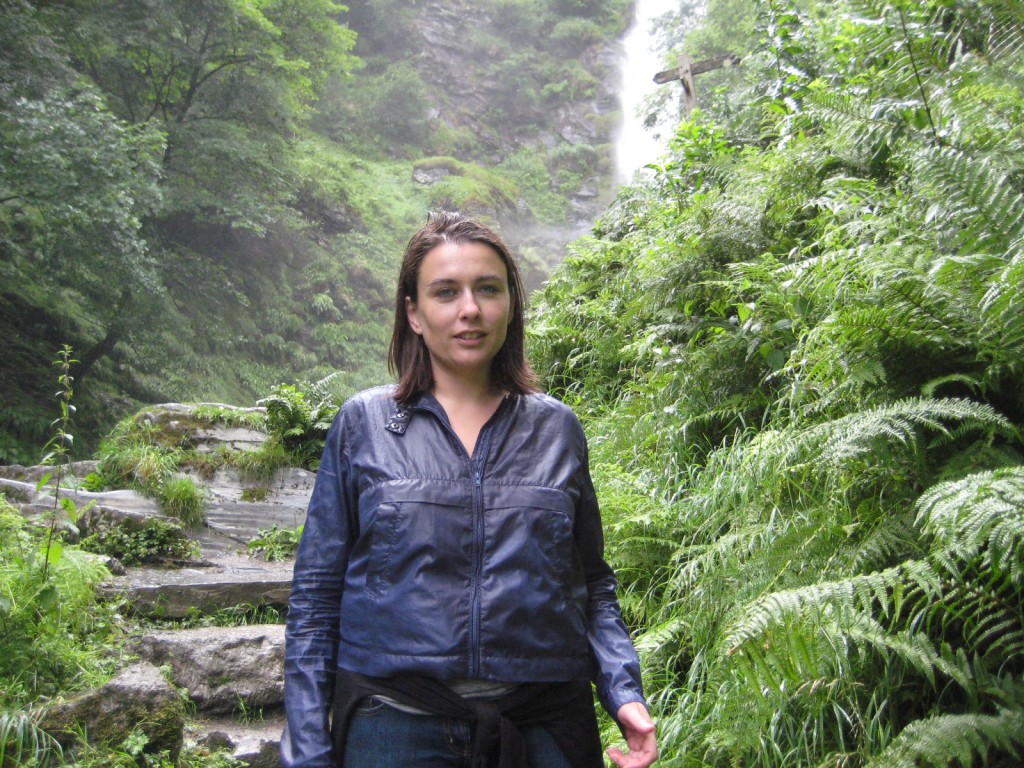 We very much enjoyed our tea and cake up at the waterfall, even if it did cost £184.75.
Joan took over 1000 photographs of sheep during this walk. It would a misrepresentation if I did not include at least one.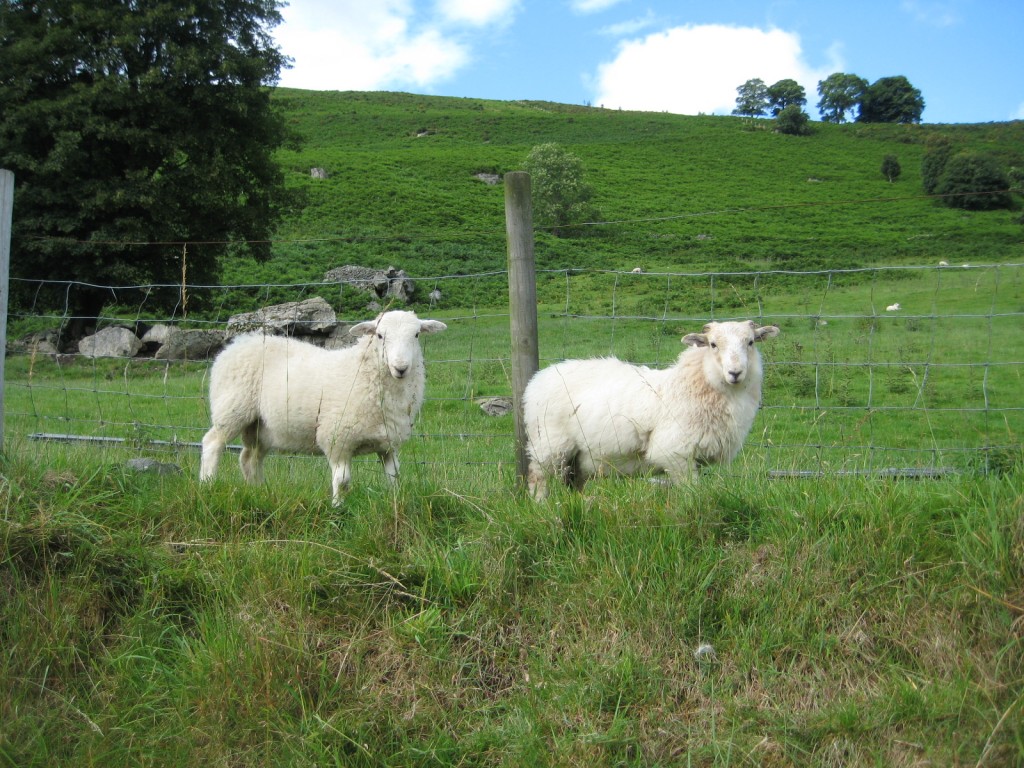 The next day, after our customary full Welsh and a muck about with the dogs Joan and I embarked upon another walk during which we nearly died. OK we didn't nearly die but we could have nearly died, nearly.
It called itself a walk for experienced ramblers. I suppose we thought that meant for people who go on and on and on like Joan and me. We parked up in the village of Llandrillo, where we took a leak. I love a highly praised twa-let. Check this out, live from the Llandrillo pissoir.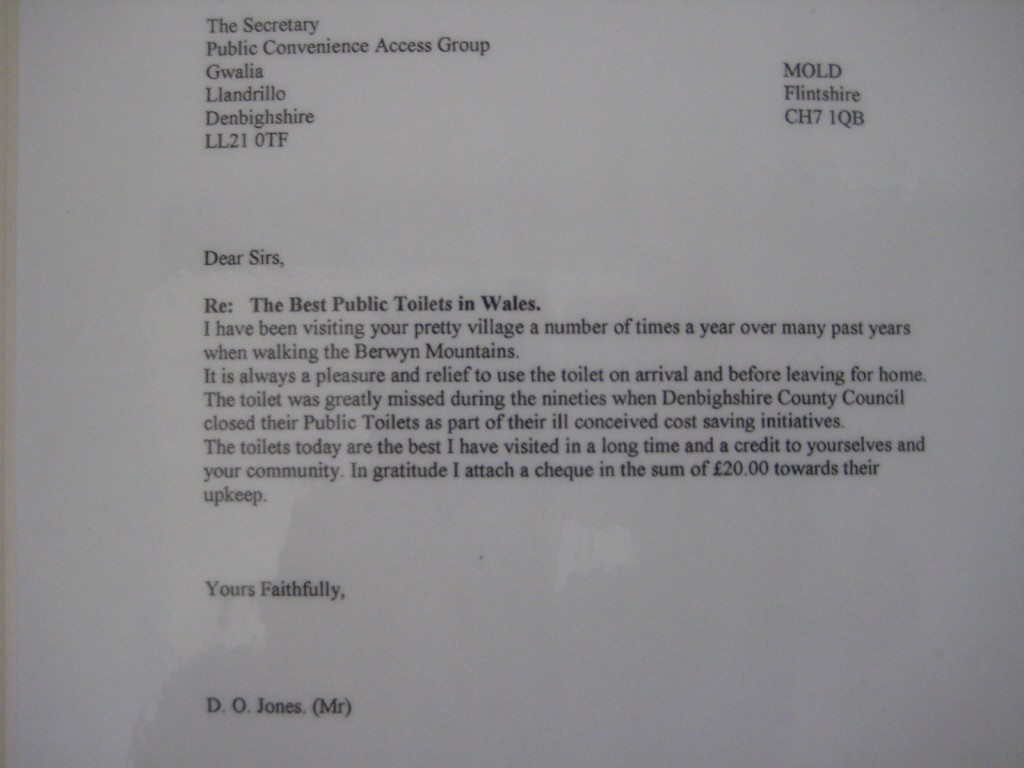 The walk was 10 miles – so why did it take us nearly six hours? One reason was we finished our meagre water reserves within 90 minutes The sun was high and hot. We were approached by four bulls and nearly died. We got Completely and Utterly Lost for about half an hour, during which Joan threw a tantrum the likes of which tend only to be witnessed on Channel 4's "Supernanny". In addition the going was very hard as we scaled Cadair Berwyn, at 3000 feet the highest peak in the Berwyn Mountains.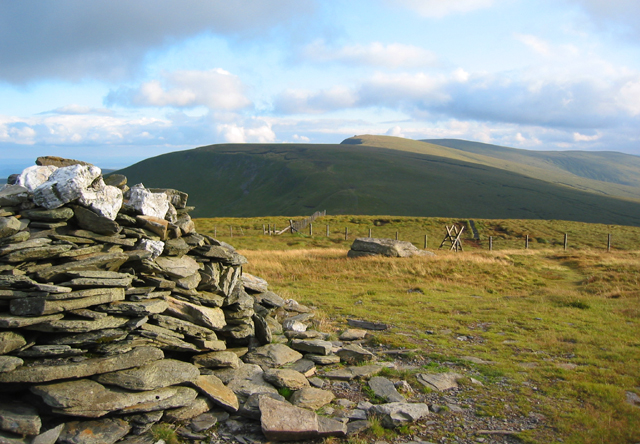 Nice innit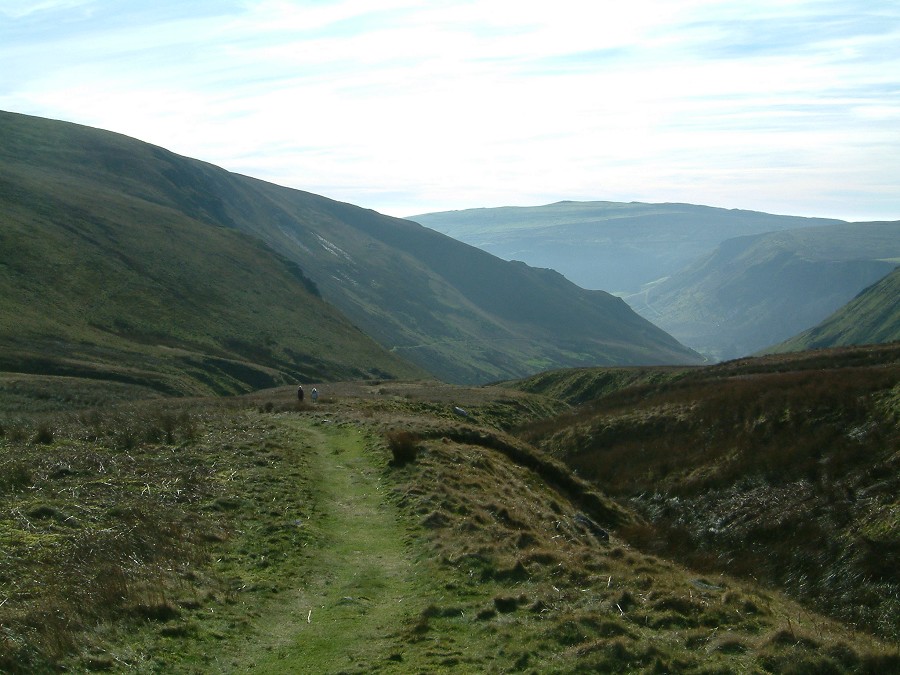 At the halfway point there was a metal box hidden under a rock. Inside was a visitors' book for walkers who had made it this far and not died yet. Here's me writing: "I wish we'd brought more water."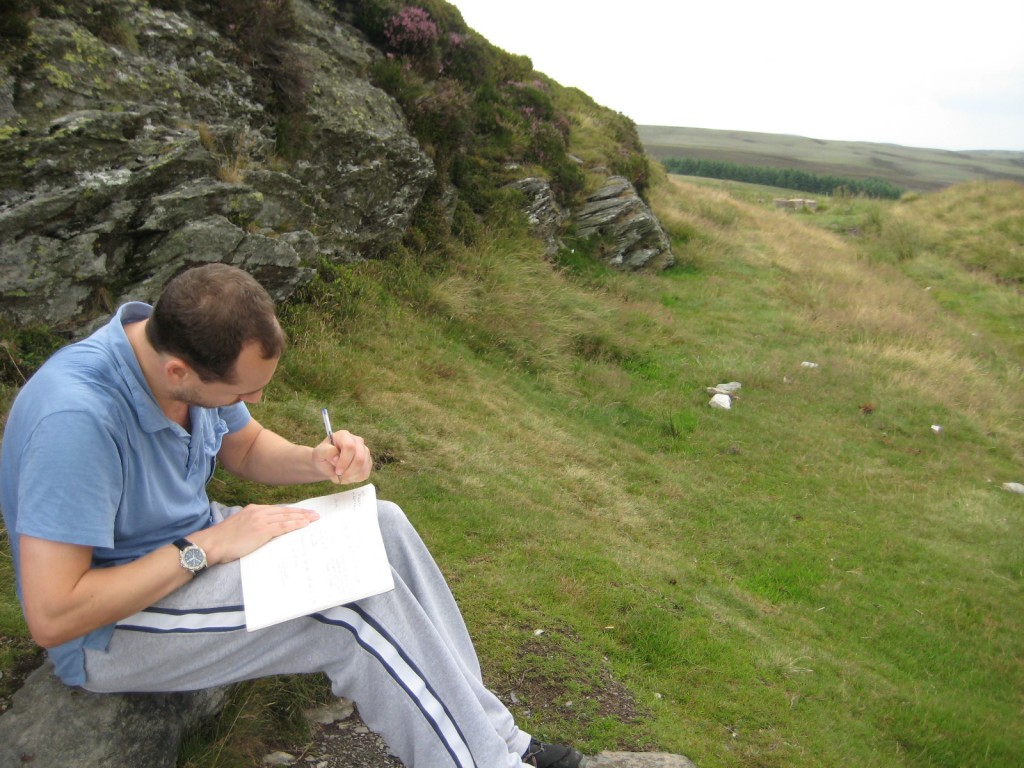 I won't linger over The Incident when Joan lost it. Suffice to say we're both over it now (particularly Joan).
On returning to the village we each bought two drinks, but found that our bodies had readjusted to life without liquid. We were barely thirsty. What a piece of work the human machine.
Already late, we hot-wheeled it back to Llanrhaeadr and suppered with Mave, another of my parents' friends from the village and someone I regard as a very special and dear friend in her own right. Mave was on what Joan calls The Smelly during the 70s and 80s. This is her interviewing Kenneth Williams.
Growing up I spent a lot of time at Mave's beautiful farmhouse. I once passed a whole day loading hay into a heap and diving on it.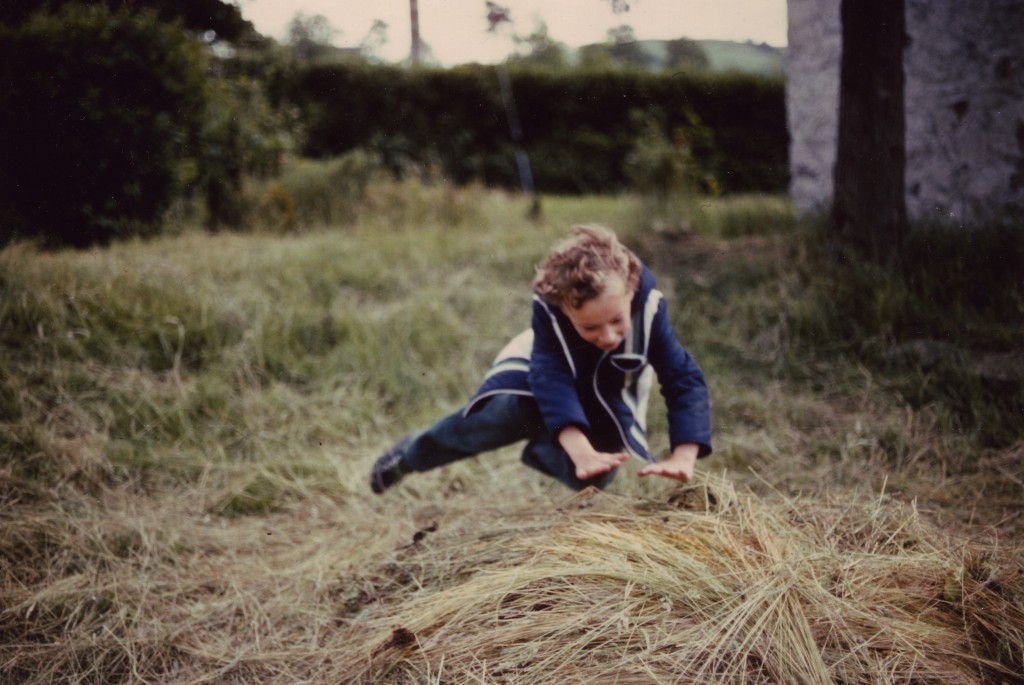 We stayed the night at Mave's.
The next day we attended a funeral. It was Jean's. I was extremely fond of Jean and was hoping that despite her illness we could visit her during our trip, but she died a week before we arrived. Instead I will remember her for her joie de vivre, her sense of mischief, the fact that she once picked all the lychee out of a fruit salad (middle class horrors no.67) and the way she took me in one evening when I was up in Wales after dad died, trying to clear my parents' house and in a bit of a tiz. Here are Jean and Hania.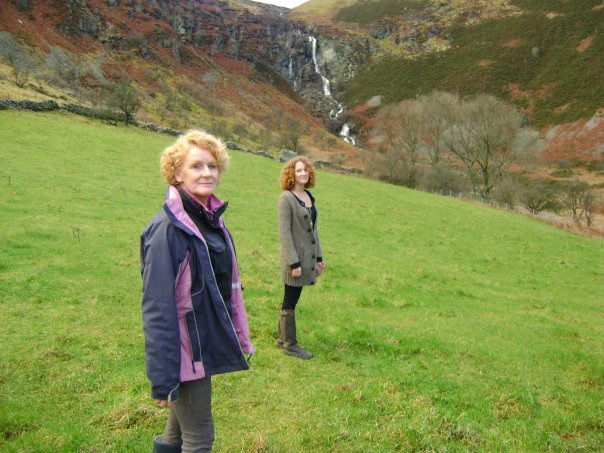 * * * * * * * * * * * * * * * * * * * * * * * * *
The following day we drove onto Criccieth in North Wales. There we lunched with Ifor and Bill, friends of my dad's from his Lost Weekend in the valley during the 50s and 60s (NOTE: Bill is a woman. She never liked her real name which I am forbidden from revealing here). Ifor and Bill were also constant fixtures from my childhood and like everyone I've mention so far, I'm very fond of them too.
Oh look, here they are!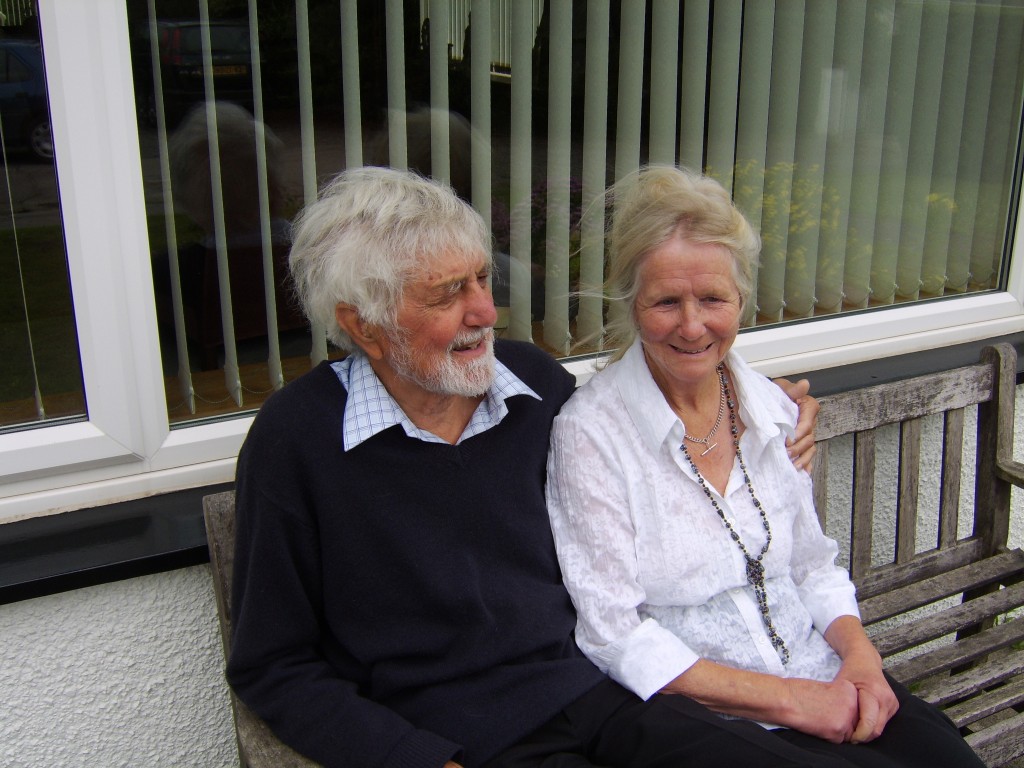 We had planned to visit the disused gamekeeper's cottage dad had lived in on his own during the early 60s, but we ran out of time.
Here are a couple of pictures of it from a previous visit. I was genuinely astonished how far it was from civilisation, especially considering my dad a) couldn't drive b) had no money c) hated walking d) was a bit fat.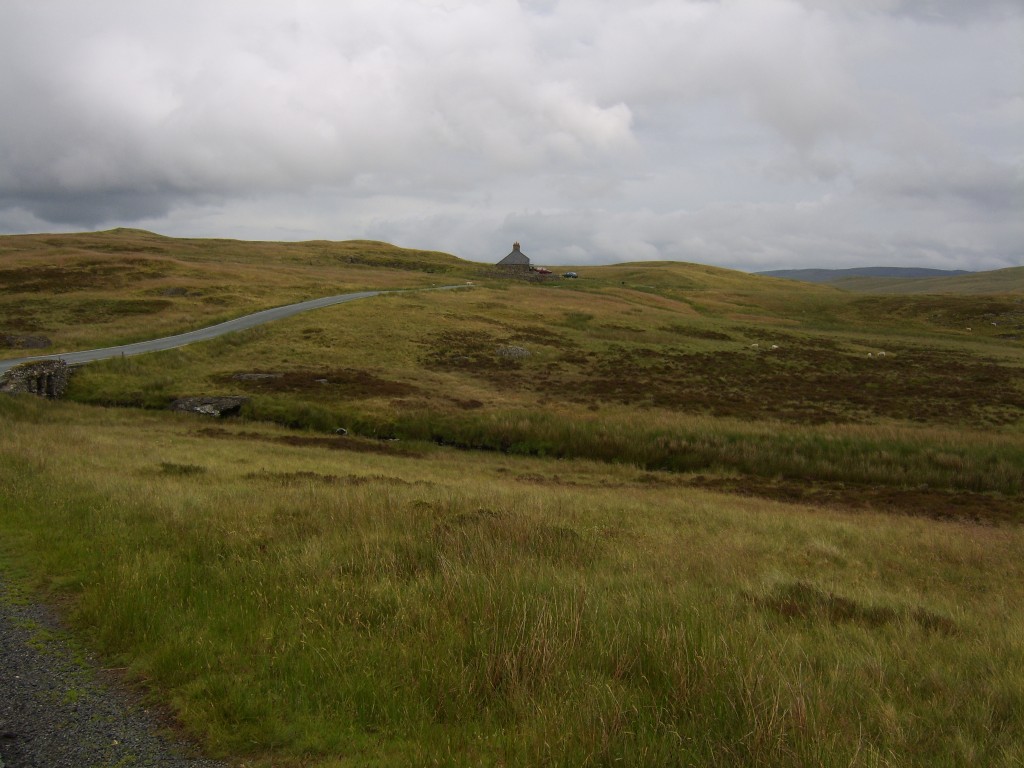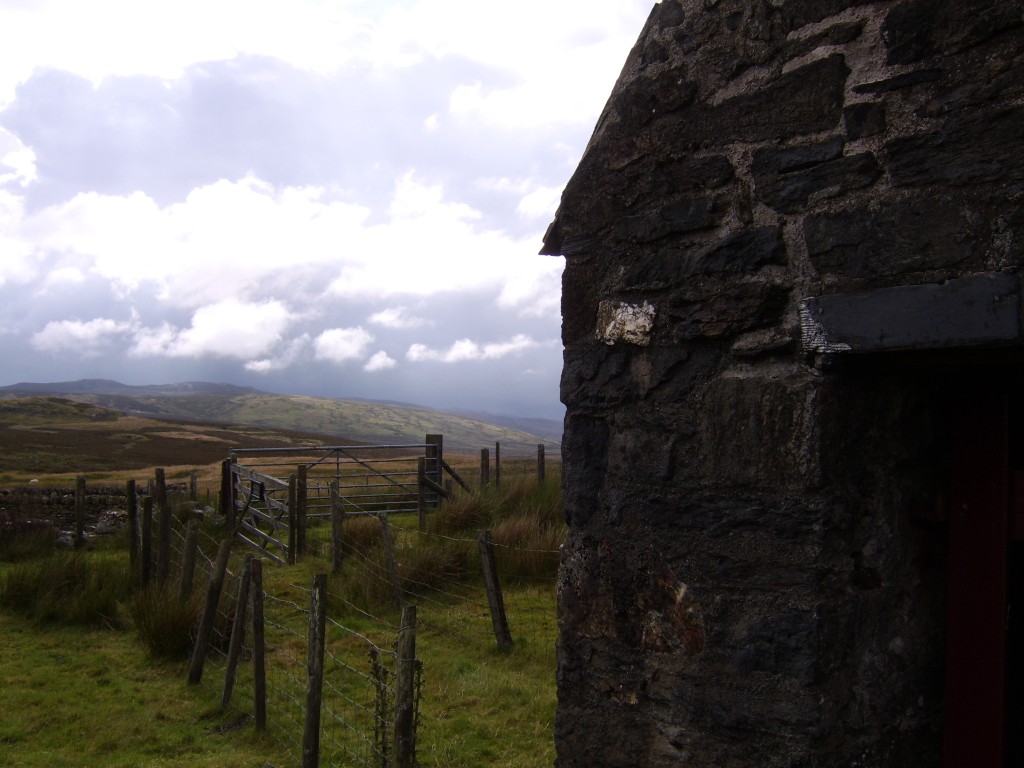 From there we drove up to Manchester and stayed the night with Jo's family. It's always a pleasure to see Jo's mum and dad, plus brother and sisters and crazy loon dog, Poppy.
We left the next morning. This is Jo's dad, clearly concerned about the roadworthiness of my car and thus the life expectancy of his daughter.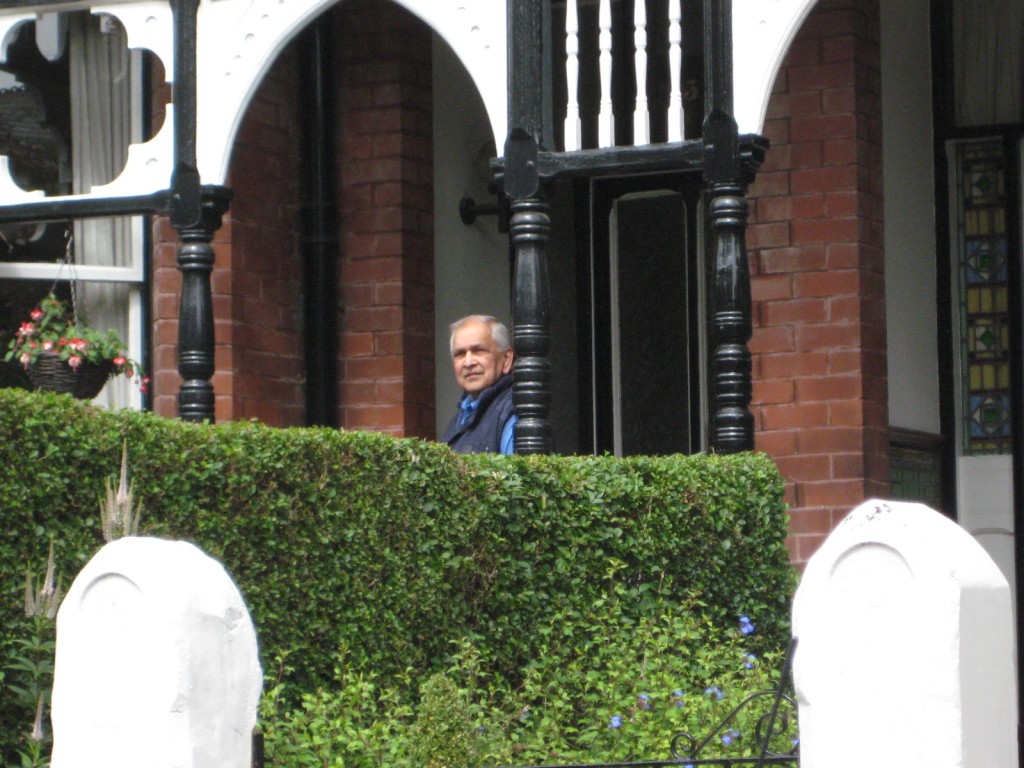 If you are still reading, dear reader, you have done remarkably well. Go on, treat yourself. Have another cup of tea.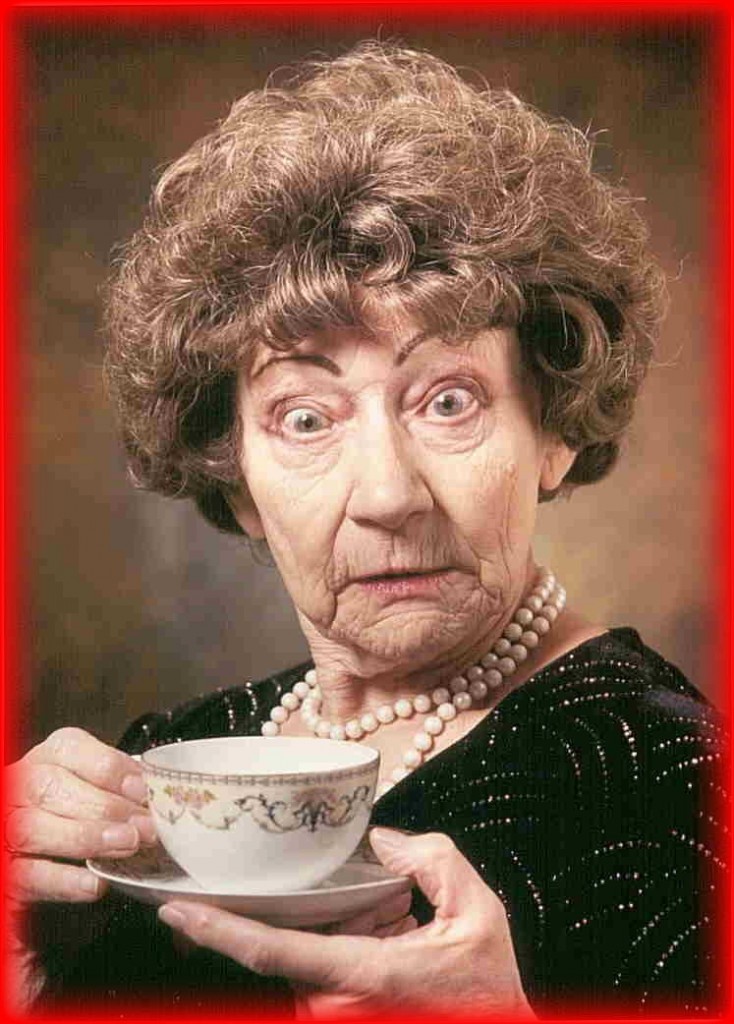 With love,
Me, Saul