On an exciting cycling story oh yes
15th May 2014
It's been so long since I last posted I've forgotten some of your names.
Truth be told I've been busy editing my novel, which is to be published later this year. It's a secret for now but pop by again soon and all will be revealed. Unlike everything else I write on here this is PROPER news.
Back to non-proper news: three days ago I experienced the extreme highs and crushing lows of competitive cycling. This is my story.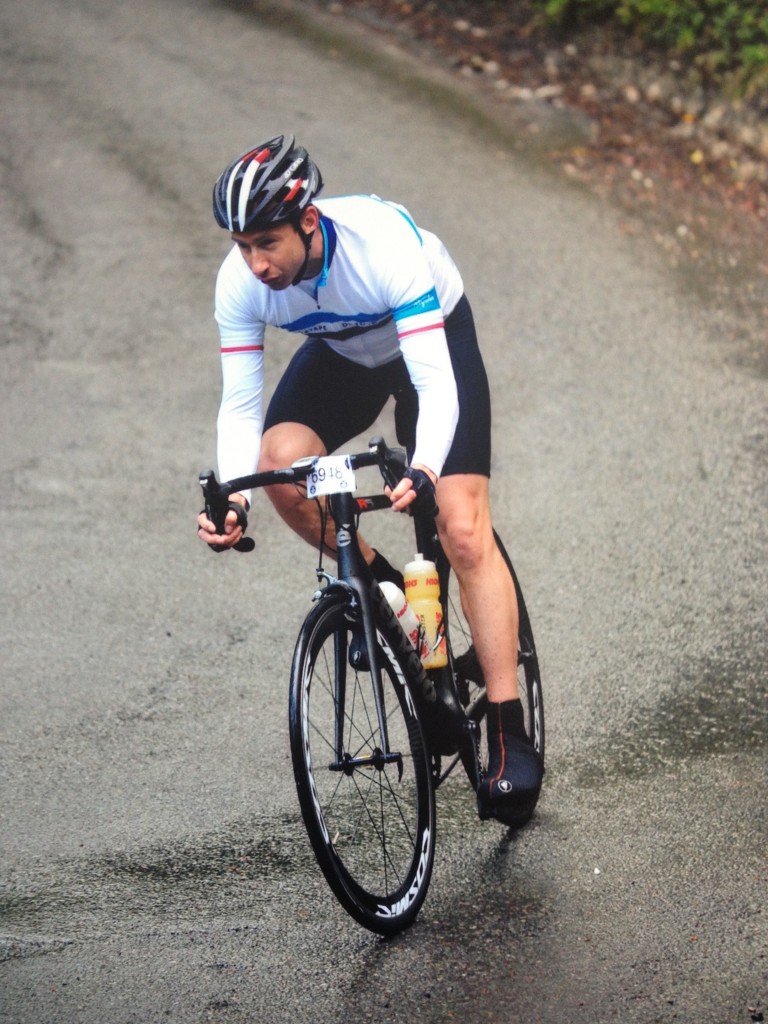 For his 40th I bought my friend George a place on the Etape Caledonia cycle event in Scotland. He'd shown an embryonic interest in cycling and bought a bike, and I thought he'd enjoy the ride while getting fit along the way, maybe even give up smoking. I'm a nanny state all to myself.
On Friday I drove up to Leeds and stayed with George. Saturday we drove from Leeds to Pitlochry. We registered for the event, checked into our B&B and met the owner Cathy ("it's not an English breakfast, it's a COOKED breakfast"), popped out for a carb-loaded dinner and returned about 7.30. Here's George looking relaxed, his demeanour the mirror image of what it would be the following morning.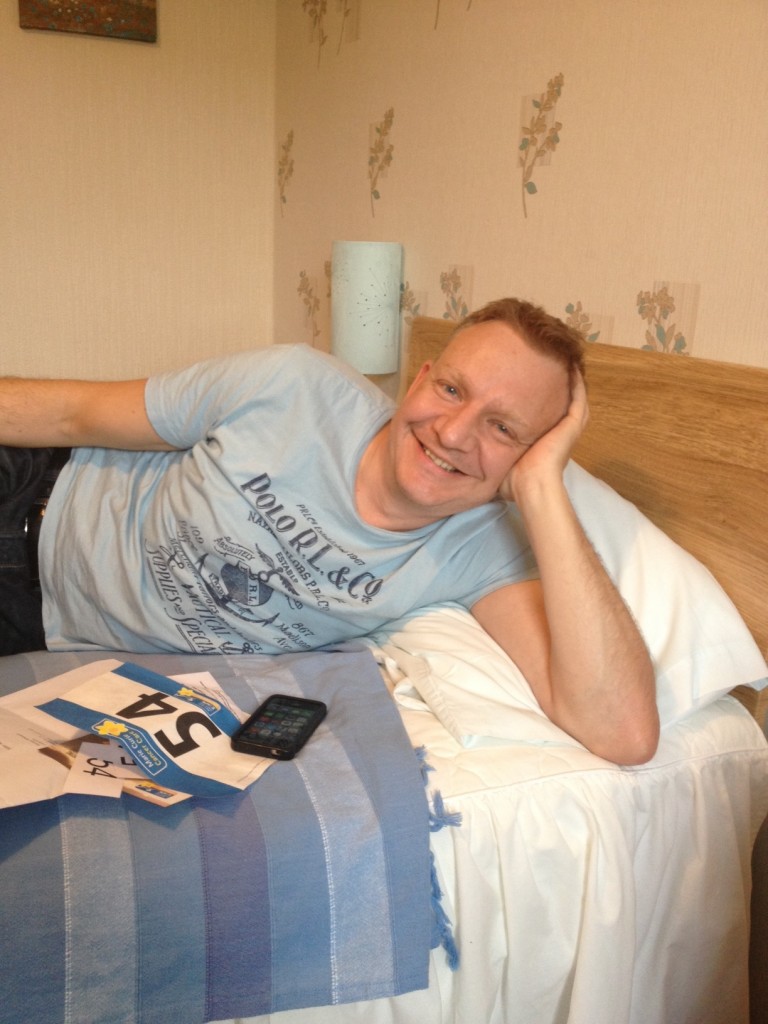 Lights went out around 10 but neither of us could sleep. At midnight we heard sickening howls, a man screaming HELP ME at the top of his lungs. This continued unabated for ten minutes. George (a doctor) felt he should investigate but in the end we both agreed the noise was coming from quite a distance and that someone closer would help out. Is that bad? It probably is. Eventually the wailing stopped.
An hour later it started again.
The alarm went at 4.29am, we shuffled through to the dining room, threw porridge/cereal/bananas down our mouths/fronts, and headed for Pitlochry.
Three years ago I rode in the self-same event. That was my first taste of serious cycling. I completed the event on a hybrid bike wearing trainers and was mocked by fellow riders. I stopped for aeons at the feed stations, not for a moment considering my time.
Regular readers of this blog (none) will have observed my development over the ensuing years from complete novice to cycling obsessive who races bikes, owns three and will bore anyone senseless about the latest sports nutrition.
This year I was able to fashion a start at the front. This maximised my chances of winning, finishing high up or recording a fast time. Events like this ("sportives") work both as races and touring events for the more sedentary. I did however do it for charity. If by some freak of nature you wish to sponsor me after the event please click here.
Former Olympic champion Chris Boardman was waiting at the start. You should be able to spot us both below (assuming you know what Chris Boardman looks like) (and you know what I look like).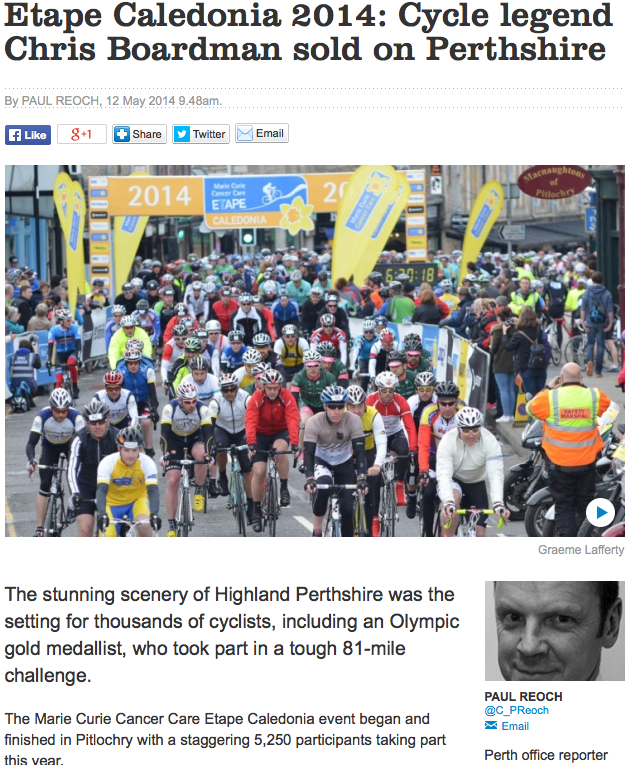 The beginning of the race was even-paced. The faster riders including myself created a bunch at the front. In cycling the group (or peloton) travels far quicker than an individual due to the physics of drafting. Riding behind someone can save you up to 30% in energy. I had a chat with Boardman ("nice bike Chris, hope you got a discount") and cycled behind him for a while, observing his silky bike skills and the fact he was the only one not wearing gloves.
25 miles in we were forced to a standstill by a sheep and her three lambs.
After 45 miles we reached the bottom of the one major climb of the day, a brute called the Schiehallion. I rode it at a reasonable pace, not wanting to push myself too hard with another 35 miles to go. But at the top I suffered a puncture.
That was the end of my admittedly-slim chances of finishing with the front group. I fixed it and re-started but the group was long gone and there were only dribs and drabs of riders to attach myself to. Then ten minutes later I got another puncture. I fixed it and rode on. Then ten minutes later another. My tyre was in a terrible state, my bike by now pretty much unrideable.
I pulled over to the side and waited. From the field above a man sauntered down. He had a most peculiar manner, so quiet and diffident I quite wanted him to fuck off. But we got chatting and it seemed he was the former head of neurophysiology at Broadmoor Secure Hospital, which is nice.
A motorbike arrived and offered me inner tubes. I explained I needed a new tyre. The mechanics had those but they were being held up by more serious stuff, crashes and the like. I contented myself with a tin foil blanket and the promise that a mechanic would be along shortly. Half an hour ago I was drafting behind Chris Boardman, now I was reduced to chatting to an oddball whilst everyone gawped at the silver idiot…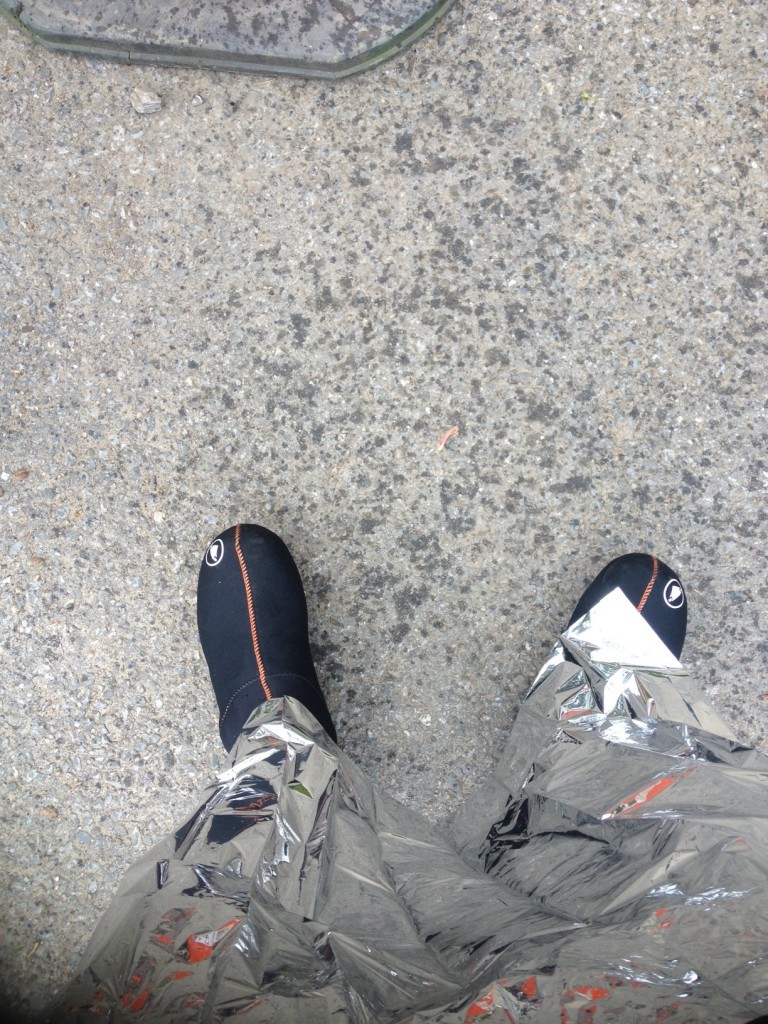 …with his bike in bits by the side of the road.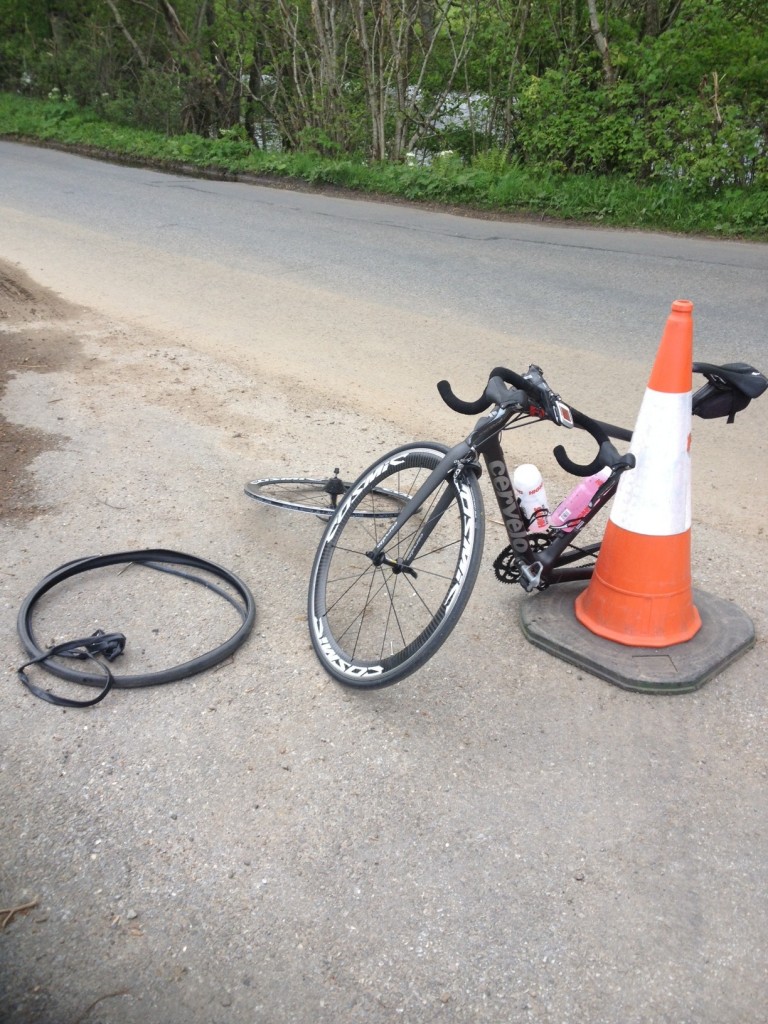 After an hour I thought, and I quote, "fuck this for a game of soldiers". I patched up my tyre, sealed up the hole in my inner tube and set off. The pressure on the tyre was extremely low but I was just about able to continue on the course. After ten miles I saw the sign for Aberfeldy. I swung off and went straight to the B&B.
"Och, you're back early," said Cathy.
I explained I'd had a few problems and was there anywhere I could store my bike.
"Och noooe, it'll be fine outside."
I smiled and quietly told her just how expensive the bike outside was. She opened the garage.
A couple of hours later George returned, having ridden round in the highly commendable time of 5:30. Well done G.
I'd not had a drink in three weeks so we adjourned to a nearby pub, sunk a few cold ones, ate a burger and watched Manchester City depressingly win the Premiership. At five we went home and slept.
Driving back the following day took ten hours, in no way helped by my attachment to social media that led us to miss a turn and accidentally pass through the heart of Glasgow.
Some of them start early up there.
*
*
*
*
*
*