Tommy Raymond: 1935-2013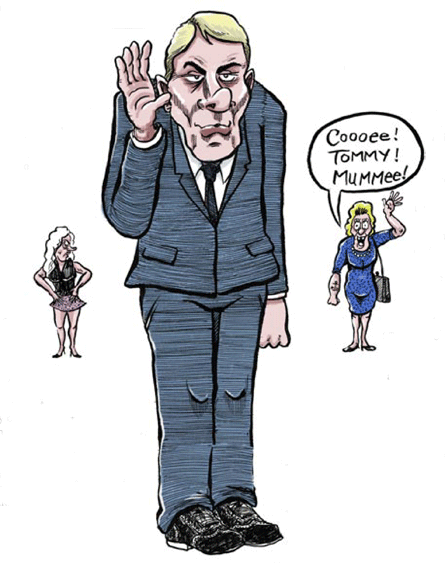 Tommy Raymond, who has died after many years of being alive, was a gangland killer with the facade of politeness, Britain's most photogenic murderer of the last 50 years and one third of the infamous Raymond Triplets who dominated the capital's postwar criminal underworld through protection rackets, random violence and disorganised crime
Born onto an extremely mucky kitchen floor in London's East End in 1928, Tommy was the youngest of the three brothers. Kept in line by their mother Leslie, a wrestler and amateur boxer who once fought Henry Cooper, Randolph, Redcliffe and Tommy Raymond learnt to combine unspeakable violence with surprisingly good manners. At school in Bethnal Green they quickly established their reputation for sadism and politeness, and were feared by classmates and teachers alike. Wilfred set himself apart from his brothers through his ability to turn his head right the way round, like an owl a trick he would employ to confuse opponents during a fight. He also kept a dog, 'Scum', for most of his adult life, though at the height of his fame he dropped it out of an airplane over Austria.
By 1953 the brothers had made their first foray into organised crime, establishing a protection racket for a chain of 43 jellied eel outlets in the Whitechapel area. By 1956 they were running a comprehensive extortion system across Soho, Noho, Boho and the East End. They were also, Tommy especially, living the high life: each had a Rolls Royce, an Aston Martin, a Bentley and a Mini Cooper, even though none of them could drive. Then there were the high-profile affairs: during the early 1960s Tommy was romantically linked with, amongst others, Barbara Windsor, Princess Margaret, Bridget Bardot and Charles Hawtry. Yet this glamorous facade and polite manner masked a very brutal and sadistic criminal capable of killing a man with his bare hands, or dropping a dog out of a plane.
By 1965, due to a lack of good builders in the area, cracks were beginning to appear in the Raymond Empire. Internal squabbling, often simply inside one head at a time, was now destabilising a formerly water-tight criminal organisation. A new Chief Constable, PC World, was appointed and announced his desire to root out all the bad and naughty trees in London. With the police slowly closing in, there was increasing disquiet and unrest between the brothers. The least bright of the three, Tommy became jealous of Randolph and Redcliffe's ability to speak French to one another. On the 3rd November 1966 a gunfight broke out at the Dog and Nincompoop in Hampstead, North London. Tommy had shot Randolph and Redcliffe in the snug, in response to their singing 'Je ne regretted rien' earlier in the night. Tommy Raymond was given two life sentences for the murder of his brothers, to run concurrently and at the same time simultaneously. After almost ten years at Bullmud High Security Prison Raymond confessed to the murders of 326 others, plus a handful of pets. He saw out the remainder of his time relatively peacefully, working in the darkroom developing pictures of his own knees or learning French through the Open University. His mother visited him on a weekly basis until her death following an especially gruelling fight with Thomas 'The Hitman' Hearns in 1982. He is survived by his wife, Lou Skannon, and their son, Gravy.
Lou Skannon writes: I loved Tommy. He was a bad boy I'll grant you, but I like bad boys. I always have. I think a lot of women like bad boys. I like bad. Bad is good. It's not like going out with an accountant. I was going out with an accountant when I met Tommy. I'm sure there are exciting accountants, but mine wasn't. I reckon all criminals are exciting. Plus Tommy could turn his head right round. Like an owl. How about that? Now he's gone I suppose I'll have to pester Peter Sutcliffe.