Audrey Mitfield: 1921-2013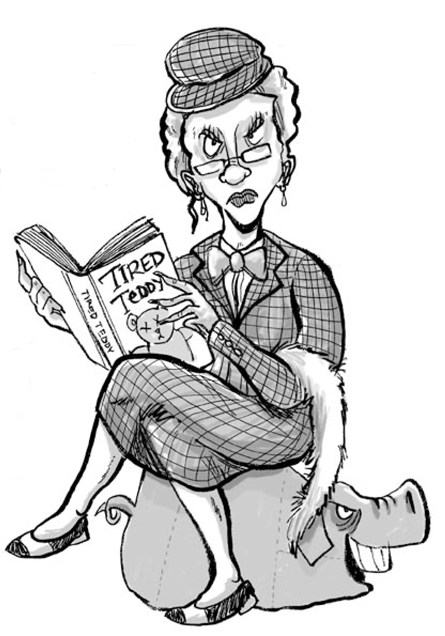 Precocious, promiscuous and never far from a toilet, Audrey Mitfield, who has died after choking on a metaphor, was one of Britain's best loved children's writers. Over the last 50 years her vivid imagination produced a host of household names including Midas Mouse, the Moo-Moos of Trollop Vale, and Peter Pumpkin, recently the subject of a motion picture starring Michael J Fox as Peter, the boy with the magic tongue and the shaky hand.
Mitfield was born in the Yorkshire village of Bifton-upon-Twaddle in 1919. One of nine children, she became so weary of her parents' failure to take her seriously that for a time she refused to speak, her only form of communication being the tearing of lettuce leaves into the shape of words an experience that informed her later work, 'The Lettuce Tearer'. At 18 Mitfield entered into a loveless marriage with a local sausage designer. Sickened by his stinky fingers, she would often, in her own words, "spread it about big time" with the local sailors. The day before he was conscripted Mitfield hid her husband's spectacles. One month later he was dead, killed in battle after having stumbled dazed into enemy territory. A widow's pension gave Mitfield the freedom to write. She instantly struck gold: her first effort, 'Tired Teddy and Pompous Pig', was a best-seller on all three sides of the Atlantic and won Book of the Week in 1952. A hatful of bestsellers followed over the next twenty years, including, 'Eli Crump and the Mice from Mombassa', 'Janet and Bob live in St Albans' and the progressive 'Mummy said Daddy's got Mouth Cancer'.
In 1978 Mitfield's second husband, 'Tubby', was killed in a freak accident at the local abattoir. To make matters worse much of the meat was packaged and sent out for the day, leading to the unfortunate tabloid headline, "Are you Eating Audrey Mitfield's Husband?" Audrey became a vegetarian and plunged into a deep depression. Her next two books, 'The Cat That Got Killed Despite Being Good' and 'Garrotte that Puppy', reflected her disturbed state of mind. A new relationship, with former butcher and author of books about meat, Arnold Palmer-Ham, helped Audrey through her vegetarianism and they married in their early 60s though her addiction to no-strings sex continued unabated. It was in her later years that Mitfield produced some of her finest work, including 'Moira Stewart and the Lost Doll', 'Legs Run in Families' and the Caterpillar prize-winning effort 'Simon Sheen Keeps his Clean'. Her memoir, 'Tie Me Up! Tie Me Down!' was banned in 49 countries. She is survived by Arnold and one son, Tony Tealeaf.
Her editor Susan Stupington writes: I used to spend long weekends at Audrey's cottage in Dorset. What I remember most about those times was her sense of fun and also her sense of smell. She had a very sharp nose and would often accuse me of breaking wind, when in fact it was one of the dogs. She was quite a small woman in stature, but had a big laugh except when her husband died. Then she stopped laughing and started wearing black. I suppose that was fair enough, but it did go on a bit too long in my book. Not that I've written a book. I mean, I've edited lots of books but never actually got round to writing one. I know I could, though. I mean, if plain old Audrey could do it, I think you'll find that muggings here could rattle a few off, no sweat. I loved her very much and will miss her dearly.