Bob Stout: 1917-2013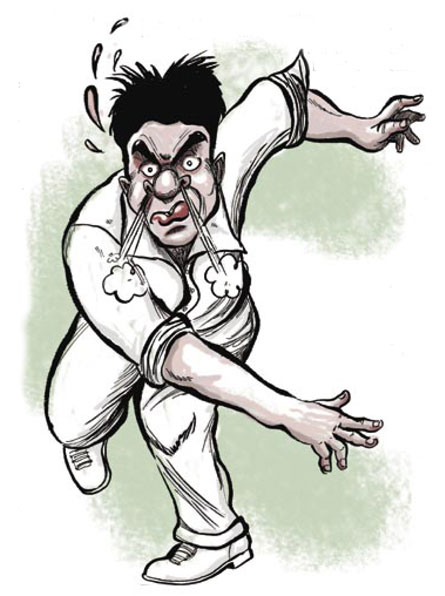 If ever there was a man to lift the mood of post-war Britain it was Bob Stout?, the Yorkshire and England fast bowler who has died aged 86 after a long battle with the local council.
Born in the Yorkshire village of Chorlton-cum-Gently, Stout showed early promise as an all-round sportsman but like many northern children left school aged two to work down the mines. It was here his training as a cricketer began, with regular games conducted using coal balls and handcrafted slag bats. From the start Stout showed great prowess as a bowler, mainly on account of his oversized right hand. As school friend Tom Sturdy put it, "His right 'and were twice the size of his left. Proper outsized 'and it were. By 'eck it were massive."
Word spread of Stout's exploits and Yorkshire came knocking at his door. Unfortunately the family were taking a short break in Otley at the time but it wasn't long before they caught up with Stout who wasted no time progressing through the Yorkshire ranks.
Making his test debut against South Africa at The Ovoid in 1937, Stout produced a blistering display of fast bowling, taking eight wickets in his first over including a hat-trick with his very first ball. He was hailed an overnight hero at 3am and became the first name on the team sheet, immediately below where it says 'England'.
In 1939 war intervened and Stout was posted to Malaya in a box containing three tiger cubs and a banana. Whilst there he was deployed as a missile specialist, hurling grenades up to six miles. As wing commander Andrew Stump observed, "His hand were like a monster's hand. His fingers – they were like shins, and his wrist – it were like a neck."
War did little to dampen his spirit and Stout was at the top of his game in 1946, hounding the touring Australians and delivering a ball to their premier batsman Brad Donman that knocked his teeth out, went down his throat and into his stomach where it was surgically removed and used again the following day. With radio star looks and the backside of a caribou Stout became the poster boy for English cricket, promoting everything from Brylcreem to opium.
Just as he was approaching his sporting zenith Stout announced in his Yorkshire Post column, 'I like cricket but I like men more'. In the era before it became fashionable for cricketers to be gay this was an ill-timed declaration. Following a brief affair with John Arlott he was imprisoned.
Bob Stout retired from all cricket aged 33. Disgraced, washed-up, forgetful and disgraced, he spent the next two decades hunched in the corners of pubs cradling up to three pints of mild with that massive hand. Salvation came in the form of Test Match Special. Despite treading dog muck through the commentary box on his first day Stout was a natural, regaling listeners with tales of heroic achievement or documenting in painstaking detail his stretch in prison.
He will be remembered as England's finest bowler since D.I.S.C.O. Withers and a generous lover.